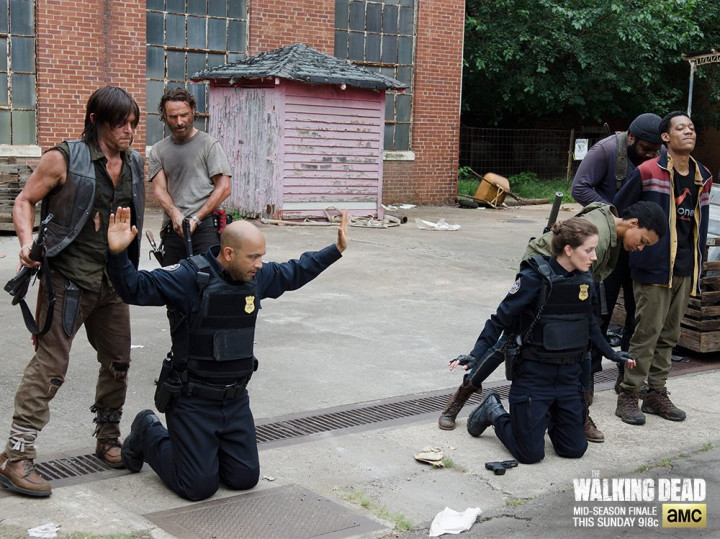 The Walking Dead Season 5 will air its mid-season finale on Sunday this week and show creators have warned TWD fans to brace their hearts for the most touching finale of the series ever.
The battle of the Grady Memorial Hospital will be nerve wrecking as Rick Grimes, Daryl Dixon and the rest of the group have hatched a plan in order to fight against the creepy hospital people.
To deal with the tricky situation they take a few hospital members as hostages and are now negotiating with officer Dawn Lerner for the release of Carol and Beth in exchange for them. This may lead to serious consequences.
The cast and crew of AMC's zombie horror thriller have already warned fans to keep some tissues handy as episode 8 of TWD may make them sob. But fans are wondering how effective the mid season finale would be.
"I would say it is heartbreaking." Show producer Gale Anne Hurd told E Online. "It is, I think, completely unexpected and a fantastic way to end the midseason" he added.
Meanwhile, Daryl is desperate to save his close and beloved friends and he would go to any extent to save the ladies (he could even rip-off a zombie head to use as a weapon).
Talking about the emotional turmoil faced by his character, Norman Reedus has revealed that before shooting the scenes of the finale episode titled 'Coda', he cried for an hour.
"I sat on an apple box with my head between my legs and just bawled for an hour," Reedus told TV.com. "I really wanted not to tear up during the scene. I wanted to be like I had wasted every tear in my body before we started shooting—so I just sat there and cried and cried and cried."
He also teased that the 'loss' will be a very tragic moment for the crossbow warrior as one of his loved ones will leave him.
"He's one of those characters where they keep dangling a carrot in front of him and he keeps reaching for it," Reedus says, "but the carrot falls in the mud right before he's about to get it."
Daryl was going strong even after Beth's kidnapping in season 4 but he lost control over his emotions when he met Carol after her heroic efforts to save the group from the cannibals at the Terminus.
The Caryl hug is still fresh in fans' minds and there is no doubt that her death will break Daryl's heart to pieces.
This will not be any less devastating for fans either who have kind of accepted Beth to die.
However, if Hershel Greene's youngest daughter will sacrifice her life in order to save that of her friends then it will fill fans' hearts with sadness.
She is already doing great in saving Carol's life inside the hospital by administering the right medicines to her.
Either way, the impending death of a major character will be devastating.
The Walking Dead Season 5 will return with episode 8 'Coda' on 30 November on AMC network.