How To Get Away With Murder returns with its finale episode tonight, 26 February at 9pm on ABC.
Click here to watch the episode online.
Click here to watch the episode via live stream (ABC Go)
Episode 14 is titled, The Night Lila Died, and episode 15 is titled, It's All My Fault.
The official synopsis for The Night Lila Died reads as follows:
In flashbacks, we start to piece together what really happened the night of Lila's murder. In present day, Annalise takes on a priest who is accused of murdering another priest. Meanwhile, Connor and Oliver take things to a new level in their relationship, and Wes and Rebecca continue to grow suspicious of each other, on part one of the season finale of How to get Away With Murder.
The official synopsis for It's All My Fault reads as follows:
Wes, Connor, Michaela and Laurel may have dug themselves in too deep a hole for Annalise to save them, and the shocking truth about Lila's murder is finally revealed, on the season finale of How To Get Away With Murder
The mystery of who murdered sorority girl Lila Stangard will be the main theme of the two-hour finale episode.
The main suspects are Rebecca, Sam Keating and Rudy.
Did Sam kill his mistress after she threatened to tell Annalise (Viola Davis) the truth? But considering Sam is already dead, and already acquitted for Lila's murder, it doesn't fit that he killed her.
Could Rebecca (Katie Findlay) have drowned her supposed best friend, after sleeping with Lila's boyfriend Griffin?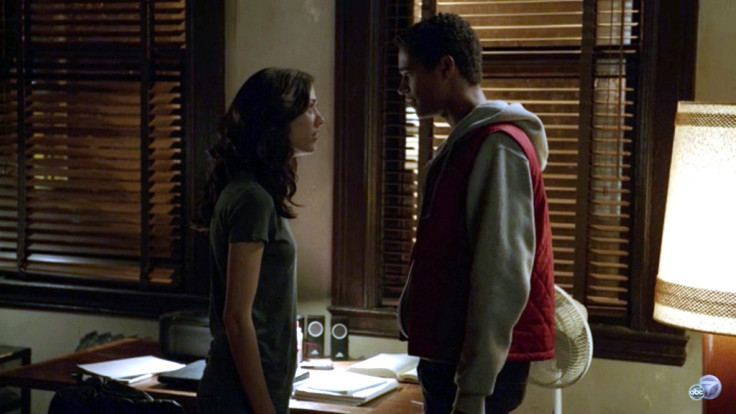 Wes Gibbins's suspicion about Rebecca being the killer is based on the fact that he found Rebecca lying about her neighbour's involvement a number of times.
Another prime suspect is Rudy, Rebecca's neighbour, who is now a patient in a mental institution
In the last episode, Wes looked up Rudy's whereabouts, and found that he had suffered a drug overdose and was arrested on the same night that Lila Stangard was murdered. Besides, when Wes showed him a photo of Rebecca and asked him if he recognised her, he said a single word - "wet."
Wet could imply the water tank where Lila Stangard was found. Wes thinks this means that Rebecca and Rudy had to do something with Lila's murder.
"Wes is in a real crisis in our finale," showrunner Pete Nowalk told Entertainment Weekly.
"He's in a crisis of, who does he trust and what does he believe? Early on in the season, Annalise said, 'People are unknowable.' Our finale is really about him experiencing how unknowable people are. He's a mess. Here's this girl he murdered for and now he's paranoid that he was wrong. Of course, the person he wants to talk to about it is the person he's in love with, Rebecca. That will be a dilemma for him. Does he just confront her and ask her? Or does he try to figure it out behind her back? He has to deal with Rebecca very carefully."
At the same time, if Wes does prove that Rebecca is to blame for Lila's death, that will take away his only justification for killing Sam.
"That is a question in the second part of the finale for all of them knowing the fear of if they were wrong," Nowalk teased.
"What does that make them? What happens to the group? It's one thing to be able to cover up a murder where you feel at least a little bit defensible in doing it, as much as you can be. It's a whole other thing whether you can cover it up if you were just completely wrong and stupid. It's a lot of shame," Nowalk added.