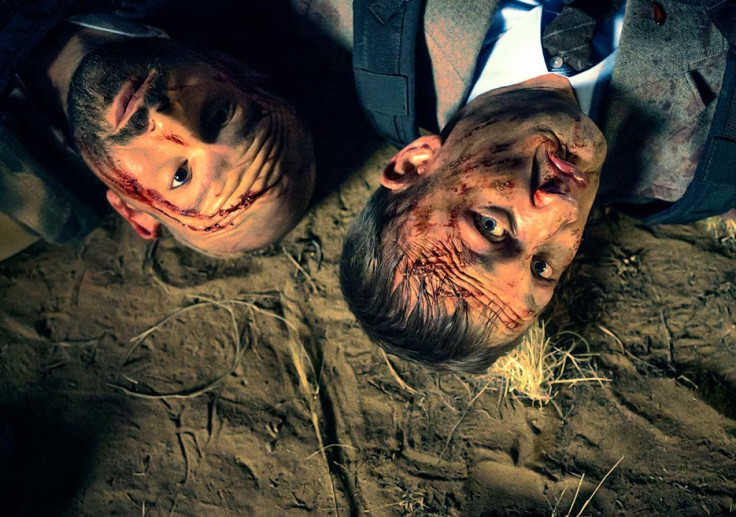 After 3 compelling episodes, Preacher, the TV series is definitely moving faster in terms of its storyline as it introduces a complexity in the form of two indestructible men – Fiore and DeBlanc – to hunt Jesse Custer.
The AMC supernatural drama returns this Sunday with episode 4 titled, Monster Swamp, which will see Jesse's confidante, Cassidy in a tight spot as he learns the truth about Genesis. The question arises; will he betray the preacher to help the mysterious duo?
Watch Preacher season 1 episode 4 to know more about Jesse and Cassidy's fate on 19 June on AMC at 9 pm EST. Click here to watch the episode online on the official website.
A trailer of the upcoming episode reveals that Jesse's vampire friend will finally learn the truth about Genesis, the supernatural creature, which has taken refuge in his friend's body.
Watch the trailer for the episode below:
Previously, Cassidy had engaged in a bloody and gory fight with the mysterious duo, who had come seeking Jesse to the church. Thinking them to be vampire hunters all along, the Irish lout had cut them into pieces before disposing them.
However, Cassidy seems to be shocked beyond bounds, when he finally realises that Fiore and DeBlanc are not exactly hunting him, rather are in search of Jesse and in turn the supernatural creature. According to the Vertigo comics written by Garth Ennis and Steve Dillon (on which the show Preacher is based), the two men are Adelphi angels, who have been sent to Earth to retrieve Genesis.
As Jesse prepares to leave the church for the day, Cassidy will try his best to explain the Annville-based preacher about the identity of the so-called "vampire hunters". "I thought they were here for me, right? I thought this is my problem and I am going to deal with it on my own," Cassidy says explaining how he got rid of them the first time, "a dozen pieces, buried in a suitcase."
When Jesse being sceptical of his apple-pipe smoking buddy's assumptions, turns a deaf ear towards him, Cassidy reveals, "Except they weren't vampire hunters, they were like Government agency clones." Unfortunately, even before Jesse's vampire friend could make a convincing statement, he stepped out of the church into the sun, cutting Cassidy's thoughts mid-way.
The official synopsis of the episode reads as follows:
Jesse makes Quincannon a bet he can't refuse, Cassidy works to fend off the angels, and Tulip tries to bring justice to Annville.
Considering the angels could seemingly convince the vampire with their plan of removing Genesis, does this mean Cassidy is about to embark a treacherous path? Will he betray Jesse, the preacher?
To find out what happens to Jesse, Cassidy, and Tulip, who seems adamant to "bring justice to Annville", watch episode 4 of Preacher on 19 June on AMC.