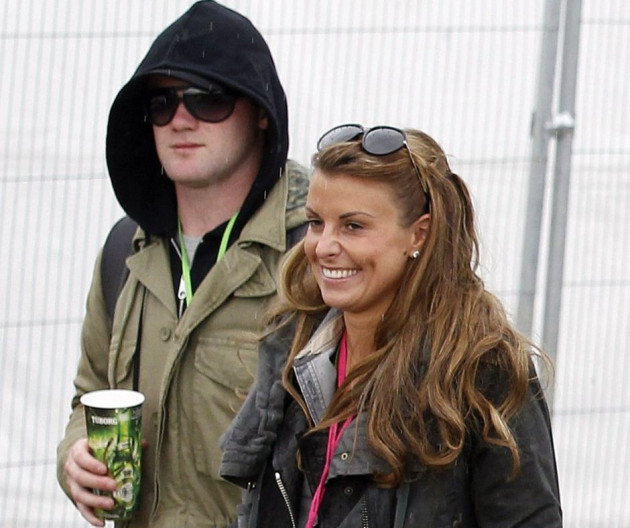 Coleen Rooney has announced she is expecting her second child with footballer husband Wayne. The 26-year-old TV presenter and fashion designer told her 840,000 followers on Twitter that the baby is due in May. The couple already has a son, Kai, who was born in November 2009.
"A few people guessed, so news is out ha!! Me wayne and Kai are thrilled that we are expecting a new addition to our family around May time x," Coleen wrote. She followed with a second message saying: "Its still only early but bursting with excitement! Also wanted the news to come from us, before anyone else!??"
Wayne retweeted the first tweet from his wife, and the couple has been showered with congratulatory messages from well-wishers.
"Congrats to @ColeenRoo and @WayneRooney on their great news! Well done wazz," Everton midfielder Darron Gibson, a former team-mate of Wayne, tweeted.
CNN host Piers Morgan, a former editor of the Daily Mirror, joked: "Congratulations on your fabulous news @WayneRooney and @ColeenRoo - and fingers crossed the baby gets its mother's looks..."
"Didn't think you had it in you to fill another pram @WayneRooney !!! Still a couple behind me! Congratulations to you both," former team-mate Michael Owen, who is now with Stoke City, posted.
Following the flood of messages, Coleen replied: "Thanks you all so much all our lovely messages!! We are over the moon x"
Manchester United and England striker Rooney married his childhood sweetheart Coleen McLoughlin at a lavish ceremony on the Italian Riviera in June 2008 after a five-year engagement. They were then 22.
"Wayne, Coleen and their families are thrilled and delighted that Coleen is expecting their second child," a spokesman for the couple said. "They wanted to share the great news on their popular social networking sites and that is why Coleen tweeted the news ahead of any speculation. Everyone is thrilled for them."
During the birth of their first child Kai at the Liverpool Women's Hospital, Rooney was by Coleen's side throughout the delivery. Later he described how fatherhood had changed him and boosted his football career. Becoming a father was the "proudest moment of my life", he had said.
Coleen also has stood by her man and her marriage even after revelations that Rooney had allegedly visited a prostitute while she was carrying Kai.