Meghan Markle looked like the proudest girlfriend in the world when she supported boyfriend Prince Harry at the annual Invictus Games' opening ceremony in Toronto on Saturday (23 September). She would not have been deemed unreasonable, however, for feeling disheartened with the seating arrangements.
The 36-year-old Suits actress is fully aware that she cannot sit next to her boyfriend of one year (at his own event) due to not being engaged to the fifth-in-line to the British throne, and looked like she was taking to life as a future royal, with all of its oddities, like a duck to water.
Royal protocol did not seem to faze the divorcee as she stood out from the crowd with her beaming proud smile and autumn-ready outfit of a burgundy pleated dress by Aritzia which retails at an affordable $185 (£137).
She accessorised the elegant wrap dress with a $690 (£511) edgy wine-hued leather jacket by Mackage slung over her shoulders, proving she is not quite ready for Kate Middleton's all-year-round conservative coat dresses just yet.
And along with her fashion-forward, glossy appearance at the games, Markle could not contain her sheer delight at seeing Harry give a heart-warming and inspirational speech on stage, showing off her kilowatt smile and clapping zealously as she hung onto his every word.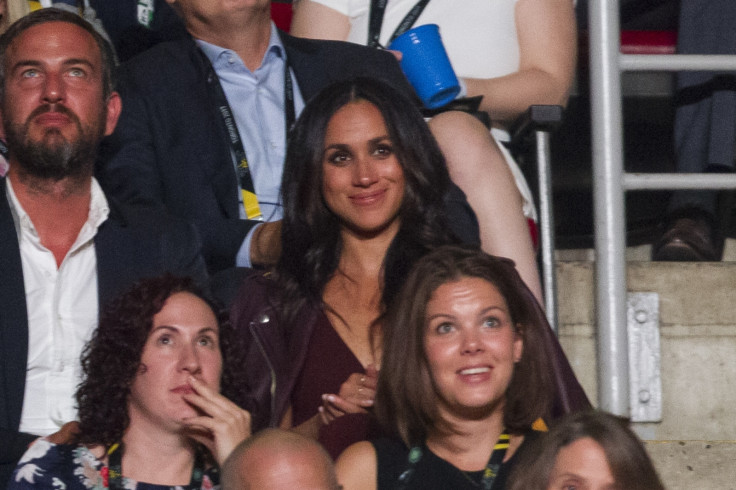 Body language expert Judi James commented on Markle's behaviour at the opening ceremony, telling IBTimes UK: "A couple doesn't have to sit together to show togetherness signals and Harry and Meghan managed to throw out enough hints about their relationship at the Invictus Games despite sitting several rows apart.
"Harry should have been at his most comfortable out there. He's with guys he knows and adores to watch on the track plus have a bit of banter with before and after, and he's promoting a cause he feels passionate about, and yet still he cracked open a couple of hand gesture anxiety rituals to suggest his thoughts were often flicking across to Ms Markle."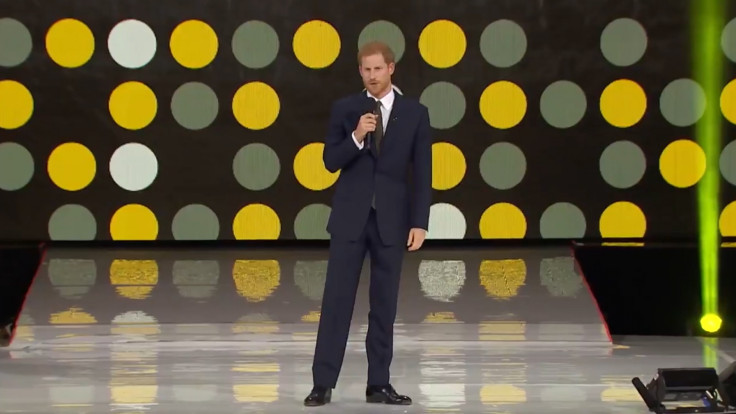 But Harry need not worry about being judged by his ultra-supportive girlfriend, who is used to making persuasive public speeches as a Global Ambassador for World Vision Canada and Advocate for the United Nations Entity for Gender Equality and the Empowerment of Women.
James continued: "Meghan herself brings a whole new body language dynamic to the royal family thanks to her daytime job as an actress. We shouldn't really be too fooled by the way she sheltered under her leather jacket and held her clutch bag high to her chest in a gesture suggesting a desire to hide.
"No woman who pursues a Hollywood career then pairs off with a royal prince can be that troubled by press attention. The more congruent body language came when she sported a super-wide smile plus an expression of excitement in her eyes, probably due to be dubbed 'The Markle Sparkle' any time now!"
She added: "If you look around at the rest of the crowd this doesn't look prompted by any event on stage as they're not grinning in the same way as though sharing the response. Meghan and Harry looked mirrored at this point though, which should pick them out as a couple even with the space between them.
"Meghan's raised chin and high clapping made her look like a proud parent on speech day and the way she stood to perform her own little standing ovation did look like a solo act of admiration for her man."
Markle's unquestionable pride aside, should she have really been sitting without her boyfriend –despite borrowing one of his security guards – as he flitted glances at her from the VIP box alongside US First Lady Melanie Trump and Canadian Prime Minister Justin Trudeau?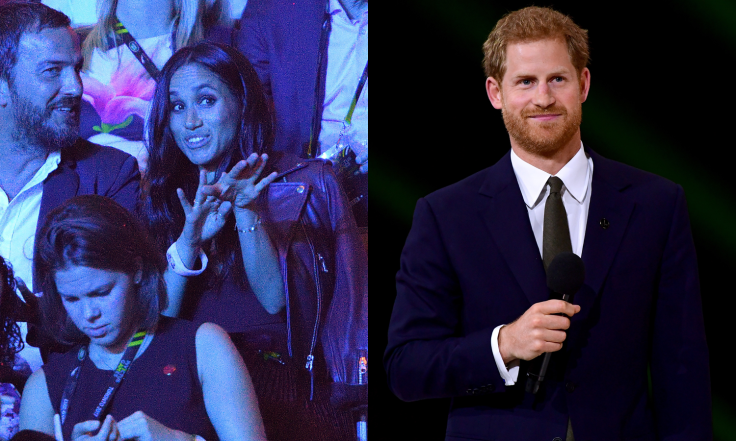 Royal writer Phil Dampier said: "I think Meghan should have been seen at the Games for the first time at an event with Harry. We all know they are a couple so it's crazy to have them sitting apart.
"But it's understandable because she is not yet "official" and therefore it wouldn't be right for her to overshadow the US First Lady or Canadian PM."
As it stands, Markle will not be able to attend any official engagements with Harry as a couple until she has a ring on her finger, which he must feel irritated by since he is one of the more unconventional members of the royal family, unafraid to do things differently like his mother, Diana, Princess of Wales.
But what does Harry make of sitting several rows away from his girlfriend, Dampier believes that "he accepts it".
The public were awaiting an official appearance from the couple at the ceremony since the relationship appears to be on track for a proposal, with Markle recently telling Vanity Fair that they are "in love".