Conor McGregor would become a "goddamn folk hero" if he were to land a kick on Floyd Mayweather, according to Joe Rogan – although the threat of a hefty lawsuit means the UFC superstar surely won't be tempted.
The UFC lightweight champion will take on the undefeated Mayweather under Queensberry rules when the two giants of combat sport collide in Las Vegas on 26 August.
That means McGregor is prohibited from throwing any kicks, knees, elbows or any other mixed martial arts strikes at his opponent – despite how much Rogan may want to see it.
"There's probably stipulations in the contract where he can't get him in an armbar or choke him out," Rogan said on his Joe Rogan Experience podcast.
"But could you imagine. He'd be a goddamn folk hero if he threw a jab to cover up a left high kick that necked [Mayweather]. Floyd would go limp as he's never been kicked like that. If you hid a kick behind a punch, like a lot of fighters do, it would be insane."
Rogan is right about the fight contract protecting Mayweather from any and all MMA strikes. The Dubliner has agreed to terms that mean Mayweather could take legal action if any kicks are thrown. While the specific figures and details have not been disclosed, McGregor stands to make a sizeable loss if he loses his head.
"That [kicking] will not happen, it is in the contract," UFC president Dana White explained not long after confirmation of the fight. "This is a boxing match under the Nevada commission under the rules of boxing. We talk about a guy of Floyd Mayweather's value in the sport – the lawsuit if that ever happened... Conor loves money and he would lose a lot of money if that happened."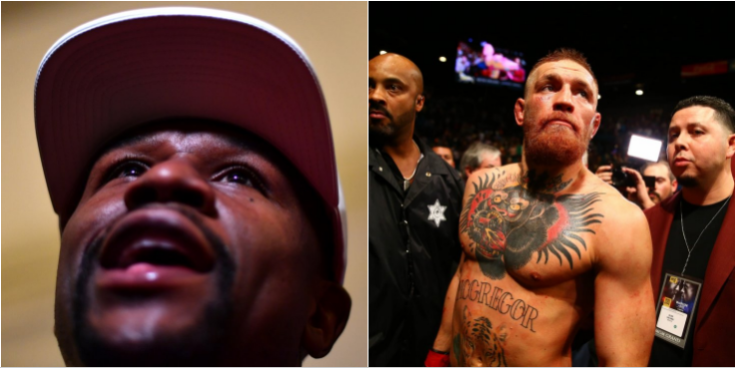 Seven of McGregor's 10 victories inside the Octagon have come via punches, most notably his last fight against Eddie Alvarez where he dismantled the Philadelphian with a four-punch combo to win the lightweight title and become the UFC's first ever two-weight champion.
Mayweather, however, has only been knocked down once – and never defeated – in his glittering career, with the list of fighters even to land a telling blow on him a remarkably short one.
McGregor, however, may feel he has a secret weapon in his arsenal; a superman punch. The MMA technique whereby a fighter luges off their leading leg to land a flying fist on their opponent, is legal in boxing, according to Showtime general manager Stephen Espinoza, albeit seldom used. "I can guarantee you Floyd's never seen anyone coming in throwing a superman punch before," Espinoza added.
While extremely rare, superman punches have been throw inside a boxing ring – once to knock down Floyd Mayweather's uncle Roger. Mexico's legendary fighter Julio Cesar Chavez caught the American with the strike during their 1985 WBC super featherweight title. Might McGregor look to do the same?