Like it or not, it is happening. Conor McGregor, a boxing novice without a single professional bout to his name, will take on the greatest of a generation in Floyd Mayweather Jnr on 26 August. Suggesting there was a legitimate chance of this going ahead would have resulted in you being laughed out of the room not so long ago. But a fight once firmly entrenched in the realms of fantasy will be a reality in just 10 weeks.
There have been plenty of twists along the way. IBTimes UK looks back on the saga that refused to go away and will now dominate the summer.
July 2015
On an appearance on the Conan O'Brien Show one summer evening, McGregor mischievously sparked it all. "If you're asking would in like to fight him, who wouldn't want to dance around the ring for $180m dollars? I certainly know he wouldn't want to step into my word but I would most certainly want to step into his world. I would certainly box him if the opportunity arose." At the time, McGregor's comments were taken with a sizeable pinch if salt.
September 2015
Floyd Mayweather comfortably stops Andre Berto to extend his professional fight record to 49-0 - one behind Rocky Marciano's all-time 100% record. 'Money' promptly announces his decision to retire from the ring and focus his energy on Mayweather Promotions.
December 2015
After knocking out Jose Aldo in 13 seconds to win the UFC featherweight title, McGregor is now a household name. In a wide-ranging interview with Fighthype, Mayweather takes exception to the adulation the Dubliner is receiving, insisting he would not be afforded the same treatment because of the colour of his skin. "They say he talk a lot of trash and people praise him for it, but when I did it, they say I'm cocky and arrogant. So biased. Like I said before, all I'm saying is this, I ain't racist at all, but I'm telling you racism still exists."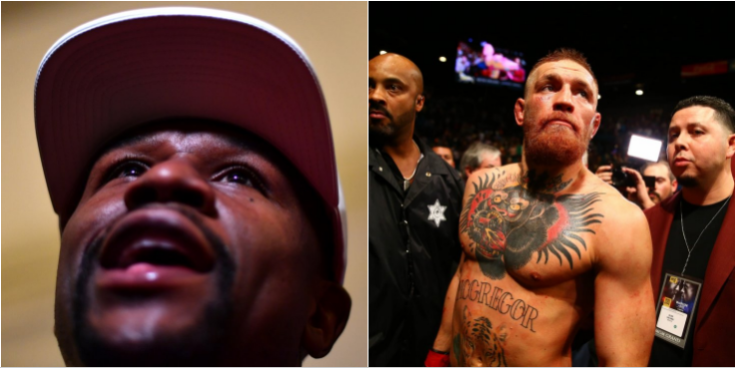 January 2016
After those light-hearted comments about fighting Mayweather on Conan, McGregor comes out swinging following 'Money's' latest comments, hitting back with an impassioned post on Facebook. "Floyd Mayweather, don't ever bring race into my success again," McGregor wrote. "I am an Irishman. My people have been oppressed our entire existence. And still very much are. I understand the feeling of prejudice. It is a feeling that is deep in my blood. In my family's long history of warfare there was a time where just having the name 'McGregor' was punishable by death. Do not ever put me in a bracket like this again." McGregor ended his response with an open challenge to the undefeated American.
February 2016
Ahead of his UFC 196 showdown with Nate Diaz, McGregor invites Mayweather to accept his challenge in an interview with BT Sport, but insisted he would hold out for a sizeable share of the fight purse – something in the region of $100m. "I'm open to the discussion. Come at me. But I hold the key. It is me who holds the key to the fight game."
April 2016
In April, McGregor shocked the world with a with a 13-word tweet. "I have decided to retire young. Thanks for the cheese. Catch ya's later." Hours later, UFC president Dana White confirmed the Irishman had been pulled from UFC 200 due to his refusal to meet certain promotional requirements. Within days however, the row was resolved.
May 2016
After Floyd Mayweather Snr fuelled the hype by claiming his son was set to box an unnamed UFC star, McGregor decided to get in on the act with that now infamous MMA vs Boxing tweet. In a follow up interview with ESPN, the Irish fighter claimed he had been offered a paltry $7m to take the fight, an offer he laughed off before declaring: "He needs me. I don't need him." McGregor pointed out Mayweather had no one left in boxing worth coming out of retirement for. Many agreed.
Later that month, Mayweather responds with a mock-up poster of his own, which we can only assume was knocked up in two minutes on MS Paint.
October 2016
Things die down a bit over the summer as McGregor and Nate Diaz's wild rivalry took over, resulting in the former taking a majority decision win at UFC 202. McGregor is now preparing for a clash with Eddie Alvarez and the chance to become UFC's first ever double-weight champion with the lightweight title on the line. In another interview, Mayweather appeared to put the final nail in the coffin. "I tried to make the fight happen between me and Conor McGregor," he told Fight Hype. "We weren't able to make it happen so we must move on."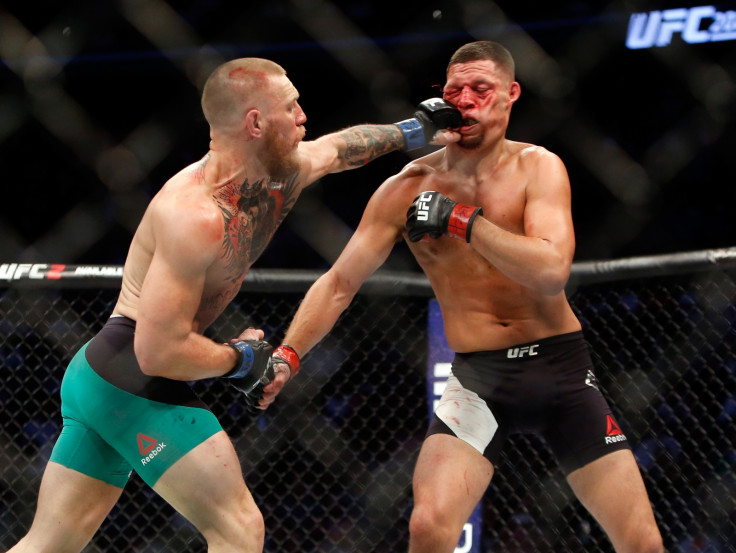 December 2016
With McGregor on a paternity break from UFC until after the birth of his first child, the two pick up where they left off, sniping at each other across social media and in various interviews. At the end of the year, things take a step forward when the double UFC champion is granted a license to box in the state of California. Dana White meanwhile cheerily announces the fight will "never happen".
January 2017
A breakthrough month. At his 'An Experience With Conor McGregor' event in Manchester, the Dubliner addressed his career in an unscripted interview for 60 minutes, insisting beyond a shadow of a doubt the fight "is going ahead".
"That fight is being more than explored – it has been in the works for a while now. There are a lot of steps to get the fight done, but it's the fight to make. It's the one that people want and it's the fight that I want.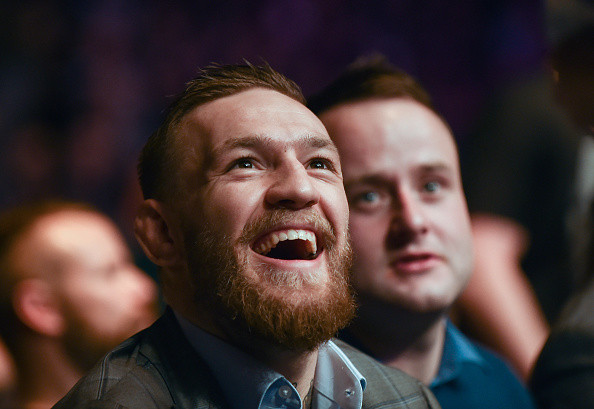 "Once we come to a number, once we come to a set number that I'm happy with, that he's happy with, then we go to the customers. Then we go to the promoters, to the buyers, and then we get it done. That's next. We'll figure the situation out then go to the dotted line, but this is happening."
Later that month, Mayweather shared McGregor's view that a breakthrough had been met. Sat ringside at the Carl Frampton vs Leo Santa Cruz featherweight world title fight, he told a crowd "this is happening".
February 2017
The Irish Sun claims a multi-million pound deal has finally been agreed after the UFC lightweight champion flew into Las Vegas for a meeting with the Nevada State Athletic Commission. Those reports were quickly rubbished by Mayweather via statement released through his social media pages, insisting he is still retired. Not missing a beat, McGregor responded in style.
March 2017
Dana White remains determined to keep everyone grounded, telling TMZ Sports he is confident the next time we see McGregor in action, it will be inside the Octagon, with talks with over the Mayweather fight "going nowhere." But sitting down with former England and Manchester United defender Rio Ferdinand that same month, the future boxing Hall of Famer confirms his intention to come out of retirement.
April 2017
UFC chief White reveals there has been a breakthrough in talks, predicting "Floyd makes a little north of $100 [million] and Conor makes $75 [million]." Those figures end speculation McGregor was only set to receive a 80-20 purse split, but with yet another update on Instagram, he warns he expects to be taking home a nine-figure sum too.
May 2017
Now we're talking. With UFC placing their support behind their biggest draw, McGregor confirms through MacLife.com that the Las Vegas-based promotion and his own management team had signed off on their half of the deal. The statement concluded: "We now await Al Haymon and his boxer's signature in the coming days."
Speaking after Gervonta Davis' crushing super featherweight title win over Liam Walsh in London, Mayweather insists he has every intention of signing his.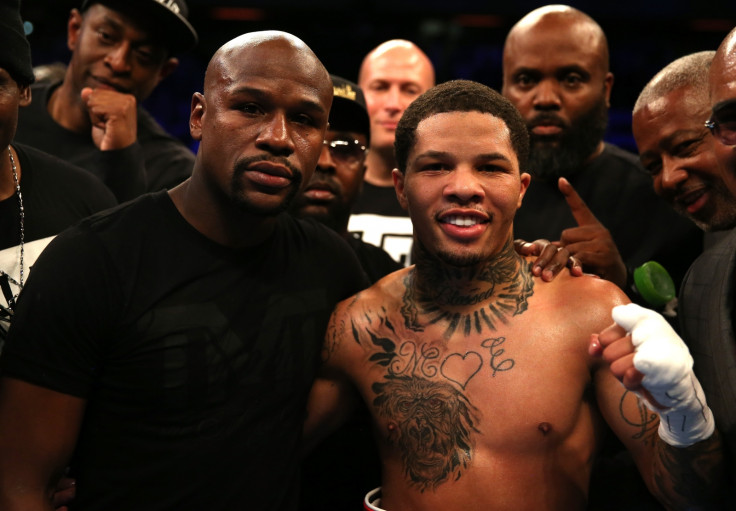 June 2017
ESPN reports Mayweather Promotions are planning to formally lodge a request the Nevada State Athletic Commission for the date of 26 August to promote an unspecified boxing event with broadcast network Showtime.
CONFIRMATION
On Wednesday 14 June, both fighters finally make things official. Dana White irons out the details shortly after the announcement, revealing what is set to be the richest fight in combat sport history will take place at the T-Mobile Arena in Las Vegas, in what will be a standard, 12-round boxing match with 10-ounce gloves, contested at a weight limit of 154 pounds.