In 2011, Bhutan's charismatic King Jigme Khesar Namgyel Wangchuck and his elegant wife Queen Jetsun Pema paid a visit to Clarence House during an official trip to the UK. This week Kate Middleton and Prince William will return the gesture when they head to the South Asian nation after a four-day jaunt in India.
Although it will be the first time that the 'Dragon King' and 'Dragon Queen' actually meet the Duke and Duchess of Cambridge, they have often been likened to their thoroughbred counterparts thanks to their fairytale romance, their penchant for PDAs and an early adoption of social media.
Before the British royal couple meet the 'Will and Kate of the Himalayas' IBTimes UK outlines the reasons why we think they will get on like a house on fire.
Real love
Kate and Wills's 2011 wedding at Westminster Abbey was the last act of what is often described as a modern-day fairytale. Gone were the days of a Prince being 'matched' to somebody of equal standing, as a result true love was allowed to flourish. As fate would have it, his Mrs Right turned out to be brunette beauty from Berkshire, whose mother was a former flight attendant. They fell in love while studying at the University of St. Andrews in Scotland.
While little is known about the Bhutanese royal love story, according to reports they first met when the queen was just seven and the king was 17, at a family picnic in Bhutan's capital of Thimphu. He vowed then to make her his wife. Unlike Kate, Jetsun Pema, who hails from one of the oldest noble families of Bhutan, was just 21 when she said 'I do'. They lived together for eight months before also tying the knot in 2011.
Social media
Both the Duke and Duchess, and the Bhutanese royals fully embrace social media, prefering to use Facebook and Twitter to make official announcements. In November, the Bhutanese royals confirmed they were expecting their first baby by releasing a shot of themselves cradling Queen Jetsun's growing bump while lounging in the grounds at Ugyen Pelri Palace in Paro, Bhutan.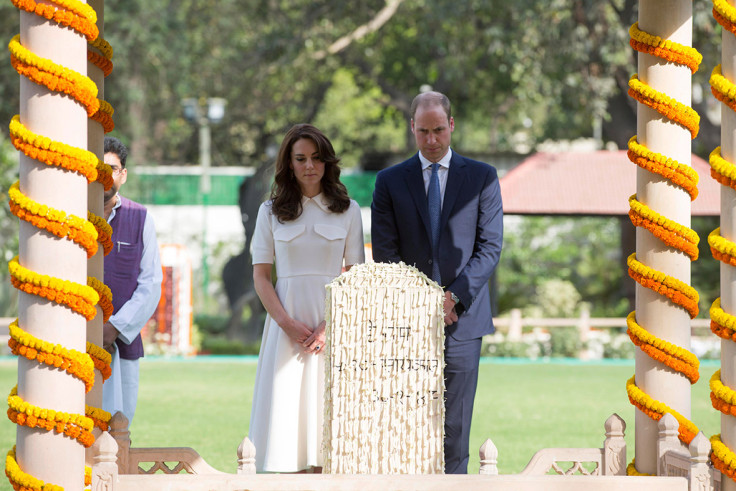 Education
It was at St. Andrews that Kate first captured William's heart and it seems that educational institutes have sentimental significance for 36-year-old King Jigme and his wife. They were international students with the king graduating from Oxford University, after studying at Wheaton College in the US, while Queen Jetsun Pema studied international relations, psychology and art history at Regent's College in England.
Family ties
Prince William and Kate Middleton are the proud parents of Prince George and Princess Charlotte, the future King and potential Queen of England. On 5 February, the Bhutanese royals welcomed their first child and King Jigme's successor. In keeping with tradition, the proud parents have yet to reveal the name of their first child, who is now known as "The Gyalsey".
"I consider my son extremely fortunate, because he will be born in our blessed country. We owe our good fortune, our peace, prosperity, and security to His Majesty the Fourth Druk Gyalpo," the monarch said earlier this year.
Style icons
Just like Kate, Jetsun is a style icon. She often turns head thanks to her striking beauty, effortlessly glamorous locks and simple make-up. Although the couple chose western outfits for their 2011 visit to the UK, they regularly pay homage to their roots with traditional, colourful, eye-catching ensembles.
Air travel
And the similarities don't end there. Although Jetsun is of noble blood, the Washington Post reports that her father, Dhondup Gyaltshen, worked as an airline pilot. Before launching their party supply business, Kate's father Michael Middleton worked as a flight dispatcher while her mother, Carole, was a flight attendant.