Having been released in the US last month, Jordan Peele's horror-thriller hit Get Out has dominated the headlines with its staggering box-office take, overwhelmingly positive reviews and Samuel L Jackson controversy. But while many publications focus on the writer-director's achievements when it comes to the outing, what about the people in front of the camera?
The film sees Girls star Allison Williams and British actor Daniel Kaluuya play an interracial couple who embark on a weekend getaway so that the latter can meet the former's parents for the first time. But on arrival, sinister goings-on start to interrupt family time and a dark mystery starts to reveal itself...
So, who is Daniel Kaluuya?
Kaluuya was born to Ugandan parents in London on 8 May 1989. He attended St Aloysius College in the capital before embarking on a career in the arts. He is close friends with comedian-writer-actor Jason Lewis.
What else has Daniel Kaluuya appeared in?
Despite many cinema-goers assuming Kaluuya is relatively new to the world of acting, he's actually been working in the industry since 2006. Back then, he appeared in BBC drama series Shoot the Messenger opposite David Oyelowo and went on to land the role of Posh Kenneth in Skins. He also wrote one of the first season of the teen drama's episodes and another in its second.
After that he starred in several UK television series, including Silent Witness, Doctor Who, Lewis and Psychoville, before making that jump to the big screen in Hideo Nakata's drama thriller Chatroom with Aaron Taylor-Johnson. The exposure earned him a role in comedy sequel Johnny English Reborn, but it wasn't until his episode of hugely popular show Black Mirror, Fifteen Million Merits, that he was really propelled into the limelight.
Since then, fans will have likely seen him in Kick-Ass 2 and Denis Villeneuve's Oscar-nominated crime drama Sicario.
What does Daniel Kaluuya think of his character in Get Out?
"What I really liked about [Get Out] is that it felt real. The grounded humanity of it is refreshing for the genre," he recently told GQ. "It feels like a real dude, it feels like a real relationship, it feels like a real dynamic, it feels like a real conflict. Like having to go see your girl's parents, and going 'aw, man...' Being weird about it, that feels real. So then the supernatural elements are grounded, the cinematic elements are grounded. That's what I'm aspiring to.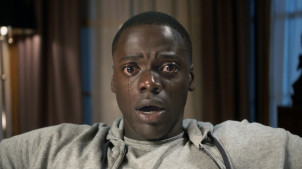 "[Chris] feels like an everyman. He's kind of like J. Cole. Chris is that guy that everyone knows, who has been in everyone's class at school. That good guy from around the area."
What are Daniel Kaluuya's upcoming film roles?
Kaluuya has just finished production on animated television series Watership Down, where he will be heard alongside the likes of Star Wars: The Force Awakens' John Boyega, Gemma Arterton, Nicholas Hoult, Olivia Colman and James McAvoy. He is currently filming Marvel Studios' outing Black Panther in Atlanta. In the film, he is set to play W'Kabi, a close friend of titular hero T'Challa (Chadwick Boseman).
After that, he is set to start shooting upcoming crime drama Widows opposite Guardians of the Galaxy Vol. 2's Elizabeth Debicki, Liam Neeson and Viola Davis.