In the Central African Republic, the long-awaited Special Criminal Court (SCC), which is tasked with the daunting responsibility of investigating and prosecuting war crimes committed in the country since 2003, is gradually taking shape.
The mandate for the new judicial body dates back to 2003, but a special prosecutor, the Congolese Toussaint Muntazini Mukimapa, was finally appointed on Wednesday, 15 February.
Who is Toussaint Muntazini Mukimapa?
The mixed SCC is composed of national and international judges and prosecutors and responsible for prosecuting the perpetrators of serious human rights violations committed since 2003, as defined by the country's criminal code.
It was Muntazini Mukimapa's experience and career in the prosecution of international crimes in his home country, the Democratic Republic of Congo (DRC), that earned him this position.
Muntazini Mukimapa graduated with a law degree focused on private and judicial law from the National University of Zaire (as DRC was formally known) at the campus of Kinshasa in 1977. Just out of university, the young man voluntarily signed up for the Zairean armed forces as a military magistrate in the late 1970s.
Now a colonel of the Congolese armed forces, Mukimapa rose through the ranks to the top position of Attorney General of the Armed Forces of the DRC – a role that enabled him to accompany United Nations agencies and NGOs in supporting the courts.
Muntazini Mukimapa, the DRC military justice system and the ICC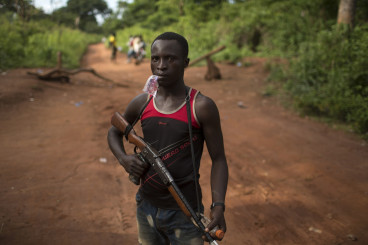 Since March 2003, the lawyer has contributed to a number of convictions in cases of international crimes – war crimes and crimes against humanity – as these cases were, until recently in the DRC, the domain of military justice.
As a focal point of the International Criminal Court (ICC), Mukimapa played a role in the implementation of the legal instruments likely to facilitate the interaction of Congolese military justice with the ICC on the outcome of the proceedings with respect to Congolese nationals brought before the ICC.
In 2015, he initiated a process in Congo with the aim of speeding up the prosecution of international crimes within the jurisdiction of the ICC, participating to the transfer of warlords Thomas Lubanga and Germain Katanga, both convicted by the ICC, and Mathieu Ngudjolo Chui, who was acquitted.
Within the SCC, Muntazini Mukimapa is expected to define the guiding principle of investigations and future trials in the CAR, where impunity remains one of the main challenges in addressing past and ongoing atrocities, as the vast majority of suspected war criminals have never been held to account.