Microsoft has announced the first major update to Windows Phone 8.1 will be coming next week and the biggest changes will see localised versions of its Cortana personal assistant coming to the UK and China.
Cortana, which is Microsoft's answer to Apple's Siri and is still in beta, will be available to Windows Phone 8.1 users from next week in the UK and China, with Microsoft promising to localise the voices and content available to users in each country.
The personal assistant will also come to Canada, Australia and India in alpha form.
While the update will bring the new features to developers from as early as next week, for the rest of the Windows Phone 8.1 customer base, the wait to use Cortana outside the US will be a bit longer, with Microsoft saying it will roll out to consumers in the coming months.
The UK version will not use the voice of Jen Taylor who voices the US version of Cortana which has been available since the feature launched earlier this year on Windows Phone 8.1.
Microsoft is promising to localise Cortana's content and voices for each market it enters. The Chinese version will also feature different animations and sounds and will look significantly different to the spinning rings interface we have seen from Cortana already.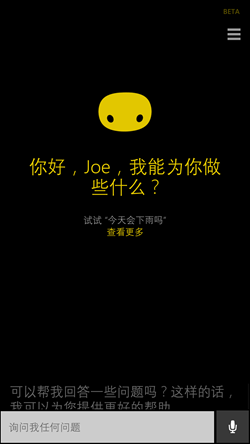 Premier League, LSE, trains
Cortana in the UK will be able to access Premier League scores and after the voice-activated personal assistant was able to accurately predict a huge amount of the games in the World Cup, you can expect a lot of people to be asking for predictions ahead of every weekend.
There will also be access to train timetables and other transport updates through Cortana in the UK, along with London Stock Exchange information.
The version of Cortana coming to India, Australia and Canada will not be localised as of yet, and will require users to opt in to one of the English language versions.
The rest of the changes in Update 1 to Windows Phone 8.1 are under the hood, but one major visual change is the introduction of Live Folders, allowing users to drag and drop the homescreen Live Tiles on top of one another to instantly create folders.
Other minor improvements include an update to the Windows Store live tile to include news on apps (updated every six hours); improved Xbox Music live tile; extra customisation options for alarms and the ability to forward of delete multiple text messages at once.
Microsoft has been gradually improving its Windows Phone software in recent months and while this latest update may not be huge, it reinforces the idea of Microsoft's commitment to the platform by constantly improving and expanding the scope of its features.
A preview version of Windows Phone 8.1 Update 1 will arrive for developers next week and for other consumers in the coming months according to Microsoft.