World Day Against Death Penalty: Executions in Iran 'not even comparable to Ahmadinejad's time'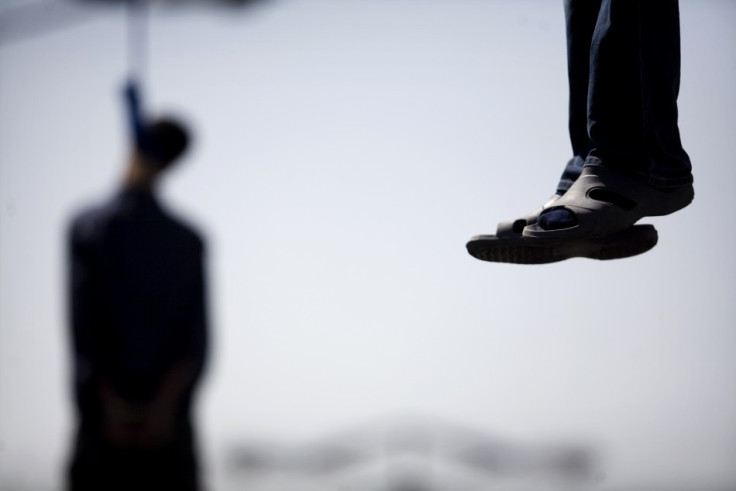 More than 800 people have been executed in Iran since the beginning of 2015, with an average of three executions per day, a human rights organisation has warned. Iran Human Rights (IHR) – which aims to increase awareness about capital punishment, carried out by hanging, in the Islamic Republic – said more executions have occurred in 2015 than in any other year since 1990.
Speaking to IBTimes UK, IHR spokesperson Mahmood Amiry-Moghaddam warned that what the NGO perceives as lack of reaction from the international community contributes to the high rate of executions in Iran, with the majority of people – more than 500, of whom 12 were women –being executed for drug-related crimes. Other crimes include murder, sexual crimes, "waging war against God" and "corruption on heart". Some people have also been executed due to their political or ideological affiliations.
Iran executions
More than 2,000 people executed since President Hassan Rouhani's election in 2013.
At least 3,344 executions have taken place since 2011.
More than 500 people executed for drug-related charges in 2015, 367 (out of 753) in 2014 and 331 in 2013.
145 of drug-related executions took place in one prison: Ghezel Hesar, west of Tehran, in 2015.
"Capital punishment in Iran is going completely in the wrong direction and this is beyond expectations even for a regime like the Iranian," Amiry-Moghaddam said.
He added that the rate of executions is higher now than when former leader Mahmoud Ahmadinejad was in power (from 2005 to 2013) and although the majority of convicted people are executed for drug offences, drug trafficking has not decreased in the country.
"I would never think that I was going to say that, but this is not even comparable to the time of Ahmadinejad, it's much worse. Executions increase day by day as relations between Iran and Western countries improve," Amiry-Moghaddam said. "We know that the UN Office on Drugs and Crimes and several European countries have been collaborating with Iran in the so-called 'fight against drug-trafficking' and we are afraid that more countries will be involved.
"There are people within the system that say that executions do not help decrease drug trafficking... so why are they doing this? It's a very good question, but for sure lack of international reaction is not helping. Europe is at the forefront of the war against death penalty and lack of reactions is a big question mark."
IHR and other NGOs, including UK-based Reprieve, have warned that people convicted for crimes that can result in the death penalty are often barred from seeing their lawyers, they are not subjected to fair trials and they make confessions as a result of systematic torture.
Some of the executions involving juvenile offenders are also in breach of both domestic and international laws. Iran allows capital punishment for juveniles in case of "qesas" (retribution-in-kind) and "hodoud" (offences and punishments for which there are fixed penalties under Islamic law). However, article 91 of the Islamic Penal Code excludes the death penalty if the juvenile offender did not understand the nature of the crime or its consequences, or if there are doubts about their mental capacity.
Amiry-Moghaddam added: "Iran is doing whatever it wants as these are arbitrarily executions of the weakest people of Iranian society."
© Copyright IBTimes 2023. All rights reserved.