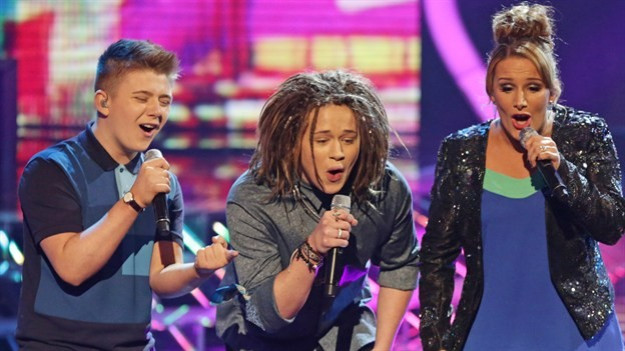 Sam Bailey, Nicholas McDonald and Luke Friend have made it through to the X Factor finals.
With Bailey the first to be voted through, followed by a shaken McDonald, it was left for Rough Copy and Luke Friend to battle it out for the remaining spot in next week's final at London's Wembley Arena.
While Rough Copy performed a stirring rendition of Boyz II Men's End Of The Road, it was Friend's performance of the Keane track Somewhere Only We Know that saw him go through, after the judges vote went to deadlock.
The sultry Nicole Scherzinger told Luke that he is a "diamond in the rough," but felt compelled to vote in favour of Rough Copy. With Gary Barlow and Louis Walsh backing their respective acts, it was left to Sharon Osbourne to cast the deciding vote, but the reality show star bailed out and left it to the public to decide, with Dermot O'Leary revealing that Luke had received the most votes out of the pair.
Clearly despondent, but stoic in the face of defeat, Rough Copy's Joey James said: "Just being here is a highlight. I thank Gary for everything he has done for us. I thank the whole X Factor team for everything they have done for us. I thank all our friends and family for always being here."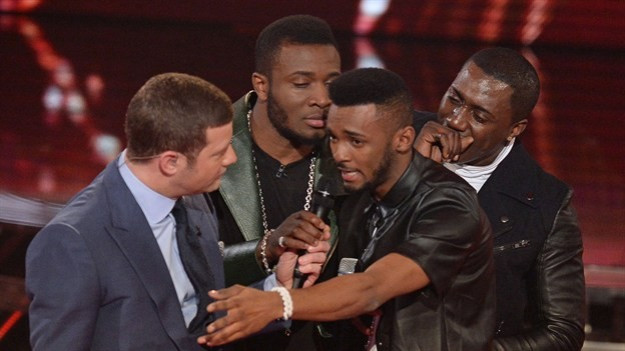 With mentor Barlow going into the final without an act, he said he was "gutted" for the Rough Copy boys. "I'm really disappointed for the boys, but obviously at this point we've seen all the acts put so much heart and soul into it. Of course, I'm pleased for the other three acts, but I'm really gutted for the boys."
"They wanted to go to the final, they wanted to experience it. For them, it's not about winning or losing, it's about getting experience. That's what they've always said from day one," he added.
The live results show saw festive performances from Leona Lewis and Michael Bublé, with the final four acts coming together to open the show with Stevie Wonder's Signed, Sealed, Delivered.
The final of the pop reality show features a star-studded line-up with performances from Gary Barlow, Elton John, The Killers, One Direction, Katy Perry and Tom Odell.
The X Factor live final begins on Saturday 14 December at 8pm on ITV.