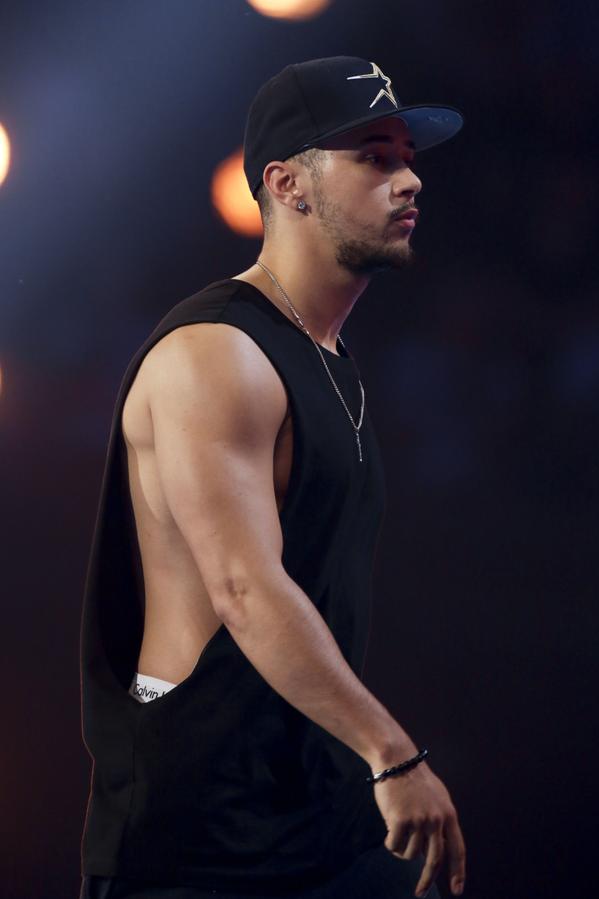 Mason Noise had the judges jaws dropping as he threw a diva fit on last week's X Factor Six Chair Challenge. But one week on and all is forgiven, as it was revealed that Mason has been offered a seat in a bid to spice up the ailing show.
It all kicked off after Mason took over the stage and complained about the lack of air time he had received compared with other auditionees. In a showdown with Simon Cowell that prompted the music mogul to call him an a******e and threaten to throw him off stage he said: "Yo, hold on - I've got something to say. You know what, I invite you all to film this - put up your phones. They ain't going to throw 5,000 people out," he said. "I'll go for it straight. The first auditions - I watched on Saturday. People had ten minute slots and I went to 47 seconds."
An angry Simon Cowell shot back saying: "Why don't you shut up? Don't tell me how long you should have on this show. You are five seconds away from getting thrown off this stage...If you've got a problem, then go".
Dropping his mike, Mason stormed off after his rant, which Rita Ora aptly described as a case of "the Kanye West effect".
Nick Grimshaw later revealed the talented, but evidently egotistic performer would have got a chair had he just kept his mouth shout. The disappointment was palpable as the Radio 1 DJ commented that Mason Noise was an act he would have looked forward to seeing every week.
However, the news that Tom Bleasby has dropped out of the show, has left one chair empty, and despite his tantrum, it seems the show's producers have had a change of heart and invited Mason to take a seat.
BBC Radio 1 DJ Nick explained the decision to bring him back, saying: "[Tom's departure] left us with the decision of what to do. Do we go to Judges' Houses tomorrow with five boys or do we bring one back? So we decided, and I spoke to the boy last night, we're bringing one back ... It had to be Mason. I'm bringing back Mason Noise. I just thought he was exciting.
"If he kicked off and wasn't talented, he'd be out the door. But he can really, really sing, and he's a performer and an entertainer, and for me, as a judge, he is someone who knows who they are," he added.
X Factor bosses were reportedly desperate to get Mason back, to bring some edge to the show which has suffered a ratings slump.
"Any other year and Mason would not have been given another chance," a source told The Sun newspaper. "He was rude to the crew, to Simon and clearly had a huge ego. Even the audience heavily booed him. But there's no denying he will cause controversy on the show, which will give the show a ratings boost."
Facing boos from the audience and a backlash on Twitter, Mason Noise is vying for the title of the X Factor's new Mr Nasty as he and Simon going head-to-head in a giant clash of egos.
The X Factor continues on Sunday at 7pm on ITV