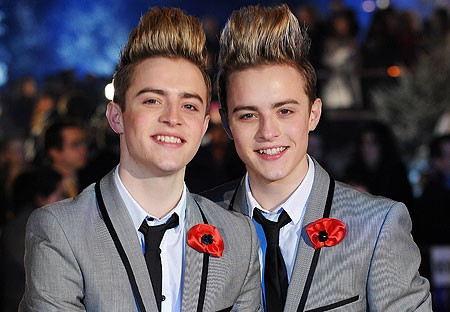 Irish pop act Jedward have made it through to the Eurovision Song Contest finals.
The twins, 20, were one of 10 acts to bag a spot after being voted through during Tuesday night's semi-final.
Dressed in silver and gold costumes, the pair who are representing Ireland for the second year in a row, sang their pop track Waterline.
The former X Factor contestants, whose real names are John and Edward Grimes, will now go head to head with show favourites Buranovskiye Babushki, a group of Russian grannies, for the coveted title.
Jeward are hoping to place higher than last year, when they came eighth with Lipstick.
Shortly after getting through to the finals, the duo headed to Twitter to share the good news with fans and thank them for their support.
They said: "Everything we have achieved started with a vision! Being in The Eurovision Final is something we are very passionate about!
"Team Jedward all around the World you are the reason...you are the reason! Why we are in the Eurovision Final and we are doing it for you!"
Meanwhile, Engelbert Humperdinck has also got through to the finals for the UK with his song Love Will Set You Free.
The Eurovision final is due to take place in Baku, Azerbaijan, on Saturday 26 May.
Check out their performance here: