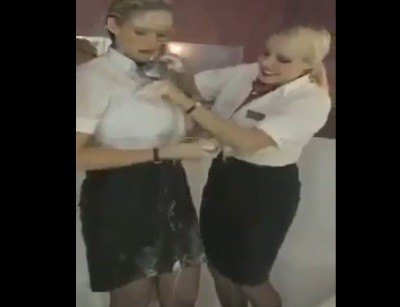 British Airways said it has launched an investigation after footage of two stewardesses wearing the flag-carrier's uniforms performing a raunchy striptease went viral with nearly 600,000 hits on YouTube.
The eight-minute clip entitled Sexy Two Air Hostesses in Uniform shows the duo frolicking in a bath before one showers the other down.
Viewers are treated to a kinky striptease when one of the blondes hitches up the other's skirt to reveal a pair of suspenders and then starts rubbing soaps all over her body.
Although there are no words just music, their antics were enough to keep viewers entertained.
The video was posted on YouTube in 2012.
One viewer who watched the clip said: "This is a very good advertisement."
Another wrote: "What's so controversial about this?Just let these hard-working girls have some fun and let off some steam. Their job is so hard already and so thankless."
A third commented: "Reminds me why I became a pilot."
An airline spokesperson added it was aware of the video and is investigating whether the women are members of staff.