Microsoft had much to say about its plans to unify its gaming portfolio into an all-encompassing 'family' at E3 2016. However, a comment from a Microsoft executive has prompted speculation that developers could choose to make games exclusively for its super-powered hardware revision, the Xbox One Scorpio.
In an interview with journalist Geoff Keighley on YouTube's Live E3 2016 coverage, Microsoft's general manager of game publishing, Shannon Loftis was asked whether games could launch exclusively for the Scorpio platform.
"I don't know about that," said Loftis, who featured on the live-stream to announce the revival / remaster of 2004's Phantom Dust for Xbox One and PC. "We'll see. It's up to the game development community; what do they want to do."
Loftis' remarks sit at odds with the messages coming from Microsoft's E3 2016 conference, where it attempted to allay fears of a split user-base by stating that all games and accessories will work on the Xbox One Scorpio, the newly-announced Xbox One S and the original Xbox One console.
Head of Xbox Games, Aaron Greenberg, addressed the concerns on Twitter. When asked about the prospect of game developers targeting a Scorpio-only release – in a reply to one of his tweets espousing the virtues of the Xbox family – Greenberg simply said that any confirmation of Scorpio exclusives was: "Not true".
A Microsoft spokesperson reiterated Greenberg's sentiments to Gamespot, stating: "All of your Xbox One games and accessories are compatible across all Xbox One family of products, including Xbox One, Xbox One S, and Project Scorpio."
While Loftis' comments could be seen as being an in-the-moment slip-up, it is not entirely clear whether or not Microsoft would enforce an all-Xbox-platforms rule on game developers. Reports have suggested that Sony's PS4.5 – codenamed Neo – will demand developers create both a normal and 'Neo mode' for PS4 games looking to take advantage of the "high-end PS4."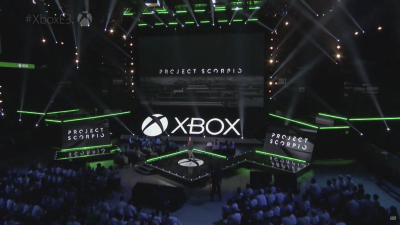 In a pre-E3 2016 interview, Sony Interactive Entertainment president and global chief executive Andrew House confirmed the existence of a PS4 Neo console (while also announcing its absence from the show). He also noted that: "All games will support the standard PS4 and we anticipate all or a very large majority of games will also support the high-end PS4."
Heavily rumoured prior to its official announcement, the Xbox One Scorpio represents Microsoft's attempts to bring 4K gaming and high-fidelity virtual reality to the gaming masses via iterative hardware upgrades. The company also revealed plans to build a closer relationship with PC gaming through Windows 10, detailing its cross-play focus and Xbox Play Anywhere - a campaign that makes certain Xbox One games also available on PC for no extra fee, with game saves carrying over.
The Xbox One Scorpio is set for a Winter 2017 launch.
For the latest E3 2016 news head to IBTimes UK's hub page