Microsoft has confirmed that a more powerful version of the Xbox One hardware is in development, with the aim to release the new Xbox One model in 2017. Following months of speculation and rumours, Microsoft revealed during its E3 2016 conference that the revised Xbox One model - currently dubbed Project Scorpio - will house a more powerful GPU, eight CPU cores, support 4K and deliver high-fidelity virtual reality experiences.
Described as the "world's most powerful console", the Scorpio was made official in a 'one more thing' closer for Microsoft's E3 showcase. Phil Spencer introduced a talking-heads teaser video (below) for the next generation of Xbox One hardware in which the Scorpio was described as the "world's most powerful console."
Esteemed game developers such as Bethesda's Todd Howard appear in the teaser to discuss the console's capability and potential. Among the promises, the Scorpio is noted as housing the "most powerful graphics processor" to ever grace a gaming home console which is capable of rendering "fully uncompressed pixels" and support gameplay in "true" 4K resolution. Howard also teased that Bethesda's recently announced Fallout 4 VR will make its way to Xbox One Scorpio in the future.
Microsoft confirmed that all games and accessories will work on both the Xbox One Scorpio, the newly-announced Xbox One S and the original Xbox One console, as the company attempts to unify its hardware into one "family" brand - an initiative which includes the newly announced Play Anywhere feature where buying one version of certain games makes you an owner of the PC and Xbox One version, with cross-play across the two platforms.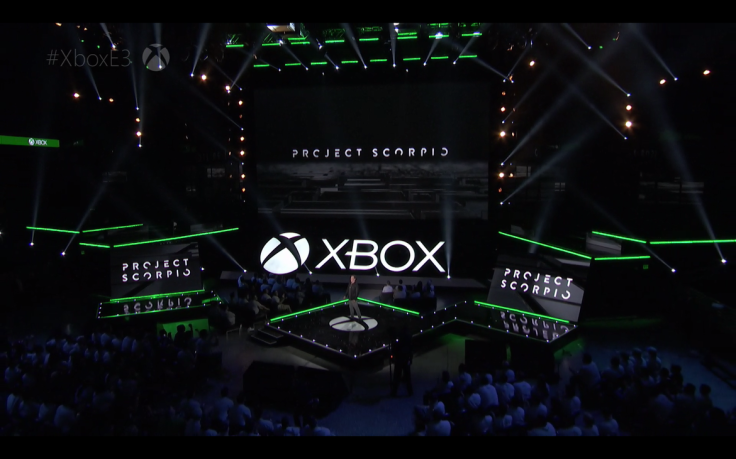 The Xbox One Scorpio was heavily rumoured in the run-up to E3 2016, with reports suggesting that Microsoft has adopted an iterative approach to its future hardware plans, while also focusing on creating a broader ecosystem for the Xbox brand encompassing both the Xbox One revisions and Windows 10 and mobile platforms.
This upgraded version of the Xbox One will be preceded by a slimmer iteration of Microsoft's home console which was also unveiled at the event – the Xbox One S, which is scheduled for an August release at a cost of £249. The Xbox One S is reportedly 40% smaller than the original Xbox One model and supports 4K movie and TV streaming, Ultra HD Blu-ray and High Dynamic Range video.