Xiaomi Mi 4 vs OnePlus One: Specs comparison of the Chinese flagship smartphones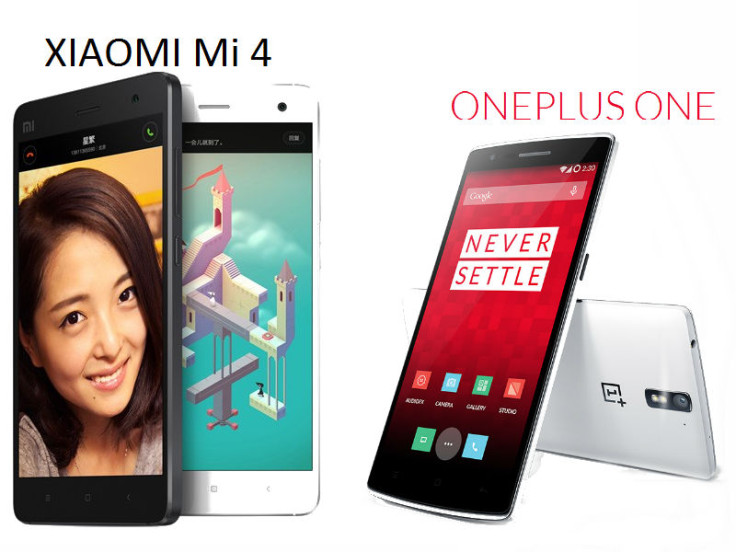 Chinese-bred Xiaomi and OnePlus are two relatively new entrants into the world of smartphones. Both the brands have succeeded in capturing attention even before their respective smartphones were launched.
Although these two are well-known for their affordable devices, they both have their own set of flagship high-end smartphones, which are just as popular as their budget counterparts.
The high-end smartphones we'll be comparing are the Xiaomi Mi 4 and the OnePlus One. Both these devices can be considered worthy alternatives to top-end smartphones by reputed, established brands. These devices also fall into the 'value for money' segment.
With Chinese smartphones generally considered to cater only to the 'budget' segment, more than the flagship buyers' segment, both Xiaomi and OnePlus could break this conception in terms of offering decent tech-specs (within their flagship smartphones) and affordability at the same time.
Let's see how the flagship Xiaomi Mi 4 and the OnePlus One stack up against one another.
Xiaomi Mi 4 vs OnePlus One: Screen
Xiaomi's Mi 4 boasts a 5in touchscreen display that supports multi-touch. The screen has a resolution of 1080 x 1920, a density of 441 pixels per inch (ppi). The display supports 16M colours, and is enclosed within Gorilla Glass 3 protective casing.
On the other hand, the OnePlus One comes with a slightly bigger 5.5in multi-touch display that has an identical resolution of 1080 x 1920 pixels (401ppi). The One's screen is also enclosed within the Gorilla Glass 3 protective casing.
Although evenly matched, the Xiaomi Mi 4 has a smaller display when compared to OnePlus One meaning the former's higher pixel density gives it an edge over the One's larger option.
Xiaomi Mi 4 vs OnePlus One: Hardware
The Xiaomi Mi 4 is driven by a quad-core Qualcomm Snapdragon 801 processor clocked at 2.5GHz. The OnePlus One is also powered by an identical 2.5GHz Qualcomm Snapdragon 801 processor, and both handsets use 3GB RAM.
This means the pair draw level in terms of packing in decent fire power and performance.
For connectivity, both Xiaomi Mi 4 and OnePlus One offer 4G, LTE, 3G, Bluetooth 4.0 (One offers Bluetooth 4.1), Wi-Fi, and microUSB options.
The Mi 4 and the One both offer 16GB or 64GB variants with neither having MicroSD expansion support.
Xiaomi Mi 4 vs OnePlus One: Camera
Xiaomi Mi 4 features an autofocus 13MP rear camera that offers dual-LED flash. An 8Mp front camera also adorns the smartphone.
On the other hand, the OnePlus One also features a 13MP rear camera (autofocus, single LED), but offers users only a 5MP front camera.
For video capture, the Mi 4 offers 3840 x 2160 (4K) at 30fps and 1920x1080 (Full HD) at 60fps, out-stepping the One which offers respectable recording at 3840 x 2160 (4K), 1280x720 (HD) and 120fps.
Xiaomi Mi 4 vs OnePlus One: Software
Xiaomi's Mi 4 runs the Google Android 4.4.3 (KitKat) operating platform straight out of the box, with the MIUI 5.0 user-interface on top.
On the other hand, OnePlus One runs Android 4.4.2 out of the box, upgradeable to Android 4.4.4 KitKat. The smartphone also runs Cyanogen Mod 11s on top of the Android OS.
With both the MIUI 5.0 and Cyanogen Mod 11s known to add a great degree of intuitiveness, the smartphones draw level in terms of ease of use, accessibility and operability.
Xiaomi Mi 4 vs OnePlus One: Release Date and Price
Being Chinese brand smartphones, both the Mi 4 and OnePlus have been released in China, and are rolling out to other countries of the world.
OnePlus One has been released in India, whereas the Mi 4 is yet to get an official release in the country.
Both the smartphones will be released in other countries of the world shortly.
In India, the OnePlus One is priced at INR 21900 (£225), whereas the Xiaomi Mi 4 is expected (not official) to get a price tag of INR 30,900 (£308).
OnePlus One, touted as the flagship killer, emerges winner in terms of pricing, but buyers of Xiaomi Mi 4 can expect the China-bred company to effect a price reduction on the smartphone after it is released officially.
In summary, both the smartphones almost draw level on most of the aspects, and on paper, look capable of challenging major/established smartphone biggies across the world in terms of technical aspects and value for money.
© Copyright IBTimes 2023. All rights reserved.