Xiaomi's CEO Lei Jun will hold a press conference on 31 March where he will launch several new products to mark the company's fifth birthday, which could include a larger Mi Pad tablet and a flagship Mi 5 smartphone.
The event will take place ahead of the fifth anniversary of the founding of the company on 6 April 2010, and the Chinese internet company is teasing fans about its plans.
On the MIUI fan forums, the company has teased:
With all your support and company over the years, Xiaomi is turning 5 next month. We have prepared big surprises for Mi fans who have loved Xiaomi all the way.
The company added: "Lei Jun, CEO of Xiaomi, will be having a conversation with some invited domestic tech media and launching new Mi product(s) on 31 March."
Bigger Mi Pad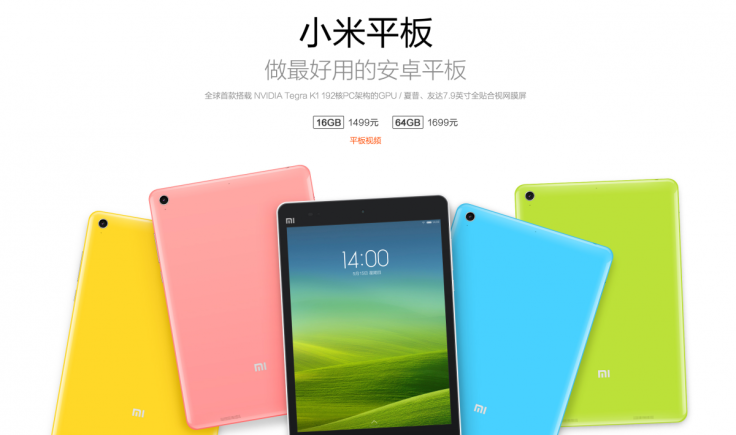 The administrator who published the post goes on to say that a new product is coming and that there is the possibility that several products will be launched. One hint strongly indicates that the company will launch a new Mi Pad tablet, posing the question: "What is your optimum and preferred screen size of Mi pad?"
Xiaomi currently sells a 7.9in tablet which runs the company's proprietary MIUI software, based on Android.
A larger Mi Pad would seem like an obvious choice and could see Xiaomi compete directly with Apple's 9.7in iPad Air.
Mi 5
So what else could the company launch? Earlier this year Xiaomi launched its high-end Mi Note and Mi Note Pro smartphones but has yet to update its mainstream flagship Mi 4 smartphone.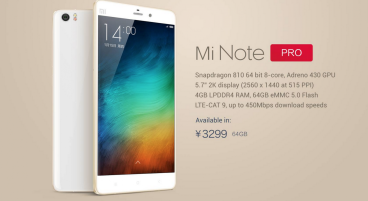 It would seem fitting that on the eve of its 5th birthday Xiaomi would launch the Mi 5 smartphone alongside a new tablet. Previously leaked details about the Mi 5 suggest the phone will have a Quad HD screen, 4GB of RAM, Snapdragon 810 64-bit octa-core processor and come with Android 5.0 (Lollipop) skinned with the MIUI interface.
Xiaomi has major plans for 2015 and has already made significant moves to both broaden its product range and its territorial reach.
The company has confirmed it will begin selling smartphones in Brazil and Russia in 2015 as well as announcing that it will open European and US version of its Mi.com online store – though only for a range of accessories initially and not its smartphones or tablets.
Mid-range Ferrari
However, this could be a bit soon for the Mi 5 considering the Mi 4 was only launched last July and some analysts have suggested the new phone may not launch until later in 2015.
A recent leak has show that Xiaomi has been testing a phone codenamed "Ferrari" which is said to be a new mid-range device that has shown up in a couple of benchmarking tests. The phone is said to feature a 64-bit octa-core Qualcomm Snapdragon 615 processor, a 4.9in screen with a Full HD resolution and come with Android 5.0 skinned with MIUI.
The phone is also set to feature a a 12 megapixel (MP) rear camera and 4.8MP front camera along with 16GB of built-in storage.
Most expect the Ferrari to be a successor to the RedMi Note to site alongside the smaller RedMi 2 which launched earlier this year.
Mi Watch
Apple will begin selling its Watch in April and a recent report suggests that Xiaomi will be launching its own smartwatch though details about the new wearable are thin on the ground.
The report from China suggests the Xiaomi watch will feature a circular face with a "brushed metal design" and heart-rate monitor. The report unsurprisingly says the Xiaomi watch will be much more affordable than Apple's Watch, but its unlikely to be as cheap as the company's first wearable, the Mi Band, which costs just £8.50 ($12.70).
Smartphone eco-system
The company has also recently launched an action camera similar to the GoPro range, as well as announcing plans to launch a pair of smart shoes in partnership with Chinese sports clothing company Li Ning. The company has also launched a new 40in Android-based smart television, Mi TV 2, which costs just over £200 but is only available in China for the moment.
Xiaomi rose to global prominence in 2014 as it briefly became the world's third biggest smartphone brand despite only selling its products in a handful of countries in Asia.
The five-year-old company is seen by many simply as a smartphone company, and while this is where the vast majority of its revenue comes from, it is more accurate to call it an internet company.
Xiaomi is positioning its smartphones as the centre of a much broader eco-system which includes everything from connected-home products like air purifiers to wearable tech like its budget Mi Band fitness tracker.