Zootropolis (or Zootopia as its known in the US) centres on spirited young rabbit, Judy Hopps, who manages to fulfil her dreams of escaping her hometown of Bunny Burrow to become a crime-fighting police officer in the nearby city of Zootropolis, where predatory creatures live in peaceful co-existence. However, her feat is one that no other rabbit has managed before and when she arrives on her first day, she soon realises that larger animals on the force aren't as keen for her to be a part of the team as she is.
As her colleagues start to doubt her abilities, she vows to crack a long-standing case that involves 14 missing mammals – a mystery that no other police officer has managed to get to the bottom of yet. Along the way, Judy finds herself coercing street-wise hustler fox Nick Wilde to help her complete her self-appointed mission, or else she'll get sent packing back to Bunny Burrow and she'll expose his criminal activities to the ZPD.
On paper, the duo seem like a formidable team; Nick, cunning enough to come up with plans to get the job done and Judy, gutsy enough to actually follow them through. However, their biology tells them otherwise, what with Nick being a savage killer deep down under his smirk and shirt-tie combo and Judy being a timid tiny bunny. But as expected in this typical noir, buddy-cop take-off the twosome learn to set aside their differences and discover the darker truth as to what is happening to some of the city's residents.
Our verdict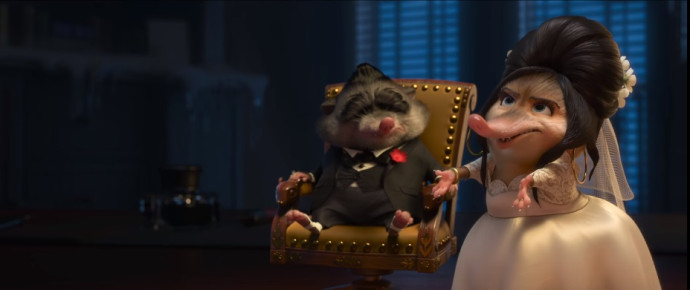 Albeit not linked to Pixar, Zootropolis has more in common with the studio than it first appears, given just how vividly realised the fictional universe it presents is. The city itself is the best part of the picture, a gorgeous cocktail of design elements. Its centre has a touch of Tomorrowland, but there's also Sahara Square, Tundratown, the Rainforest District and Little Rodentia – an area that sees Judy stomping through all Godzilla-like as the mice carrying Mousey's bags hurry for shelter in one great sequence.
In Judy, Disney have created themselves a brilliant anthropomorphic heroine, who possesses the perfect combination of plucky determination, unbelievable cuteness and emotion. Ingredients that the studio often does well, both the animation and personalisation of Judy maximises this to the fullest. Even her floppy ears emphasise what's shown on her expression-filled face, as they constantly switch between pointing on end when she's excited, to drooping when she's feeling downtrodden or scared.
There's also a few moments where she thumps her back-foot against the floor in irritation, allowing the audience to sense her feelings without her even having to utter a word on what it is that's making her feel this way. Basically, having Judy as a bunny was an undeniably genius move from writer directors Byron Howard and Rich Lee and these classic Disney touches polish off the film in a way that that studio could.
The animation team's skill in these instances is unparalleled, as they hone in on the fantastic personification of each animal's characteristics and personality. Luckily, their mastery is equally mirrored by the cast, who inject their voices with the stereotypes we hold within the animal kingdom.
Ginnifer Goodwin, who voices Judy, electrifies her scenes with the palpable enthusiasm and speed which we associate with the rabbits whereas her partner in crime, Jason Bateman superbly embodies wily fox Nick by delivering his lines with the lovable rogue-like cynicism, he perfected first in titles such as Arrested Development and Horrible Bosses. The supporting cast are just as triumphant too, what with Idris Elba encapsulates the bullish and brutish qualities of buffalo Chief Bogo and JK Simmons getting Mayor Leodore Lionheart's warmly gruff growl down pat.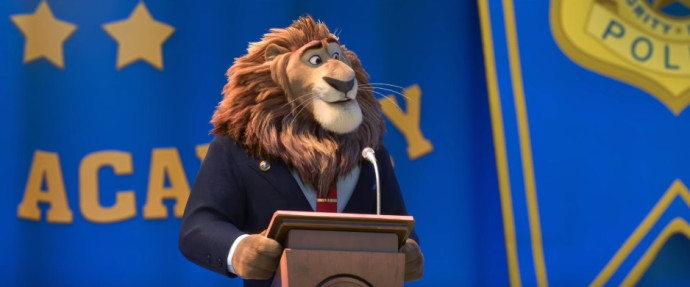 Essentially, the technicality of the film is faultless, with so much detail thrown into every scene that Zootropolis could easily cement itself up there with some of the Disney greats. However, eagle-eyed viewers who are aware of Disney's dedication to Easter eggs in every single shot might see certain twists coming that otherwise wouldn't have been guessable. But fear not, those more focused on the characters rather than the backdrops should be fine – and at the end of the day, it is a children's film after all, we're not expecting David Fincher-type shockers here.
Many Disney films that have come and gone since the studio's inception have been about acceptance at their core, but Zootropolis actually raises serious ideas about politics and race discrimination that eludes a real sense of cultural awareness and maturity that we haven't seen from them before. It's powerfully relevant too, particularly at a time when such subjects are being discussed so passionately as of late what with the Oscar's diversity row, the debates on immigration and certain government official's radical views across the pond. It even touches upon the impact of modern technology and just how much social media can influence society.
It's pretty heavy stuff but luckily for parents taking their youngsters to see this, such serious analogies will undoubtedly go over little one's heads. But it's not only the film's message that makes it arguably more adult, it's the humour and in-gags too. Pop culture references that permeate the movie throughout vary from nods to films such as 48 Hrs, Indiana Jones and The Godfather to television series Breaking Bad. (Look out for a pair of sheep named Jesse and Walter towards the end of the film).
With recent predecessors as popular as Big Hero 6 and a little movie we think was called Frozen, Zootropolis had some pretty intimidating acts to follow but it holds its own completely and certainly doesn't disappoint. It's always been known that Disney are good at heart, but when combined with intelligent but still subtle metaphors like this one, it's easy to see why the studio is back at the top of its game and proves its still the master of producing films both children and adults will engage with.
For more entertainment news follow A-List on Twitter @Alistinsider