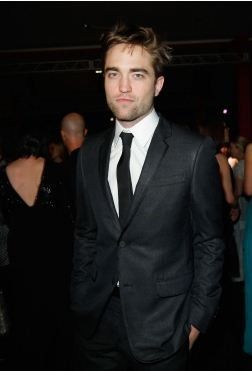 Robert Pattinson was on top form and suited up as a man-in-black, on the purple carpet at the 2012 LACMA Art + Film Gala in Los Angeles.
The 26-year-old actor attended the event after a worldwide promotional tour for his new film, The Twilight Saga: Breaking Dawn - Part 2. He was also spotted at the Sayers Club for a Prince concert with Kristen Stewart.
Pattinson, voted by Glamour UK as the World's Sexiest Man for the fourth year in a row, spoke about the last Twilight film and his role as Edward Cullen to France's Star Club magazine.
"In the end, this role helped me improve my everyday life and my lifestyle. On the other hand, I lost what I cherished the most: my freedom. Some told me that it's the price for success. I'm sorry to disagree but I feel like it's a price too high to pay," he said, "It's strange, I felt like releasing a big 'phew' of relief [now filming is over] but at the same time I felt sad. For now, I know that I'm successful. Will it last? I have no idea, but if tomorrow I encounter movie failures, I won't cry about it."
The Twilight series is based on the best-selling novels of Stephenie Meyer and the final instalment of the film - Twilight Saga: Breaking Dawn Part 2 - is set for worldwide release on 16 November.
Meanwhile, the second annual event was co-chaired by Leonardo DiCaprio and Eva Chow, and sponsored by Gucci. Florence + The Machine provided a live performance as part of the Art + Film Gala's entertainment. At this year's gala, renowned local artist Ed Ruscha and filmmaker Stanley Kubrick were honoured and received a tribute from Steven Spielberg.
The leading ladies who brought glamour to the event included Cameron Diaz, Amy Adams, Evan Rachel Wood, Minka Kelly, Amber Heard and supermodel Rosie Huntington-Whiteley.
Salma Hayek was with her billionaire husband Francois-Henri Pinault, Jennifer Aniston arrived with fiancé Justin Theroux while new mother Drew Barrymore was all smiles, along with her husband, Will Kopelman.
Other A-listers who attended the star-studded event include Chris Evans, Jeremy Renner, Armie Hammer, Ty Burrell, Will Ferrell and Academy Award-winning actor Tom Hanks and wife Rita Wilson.