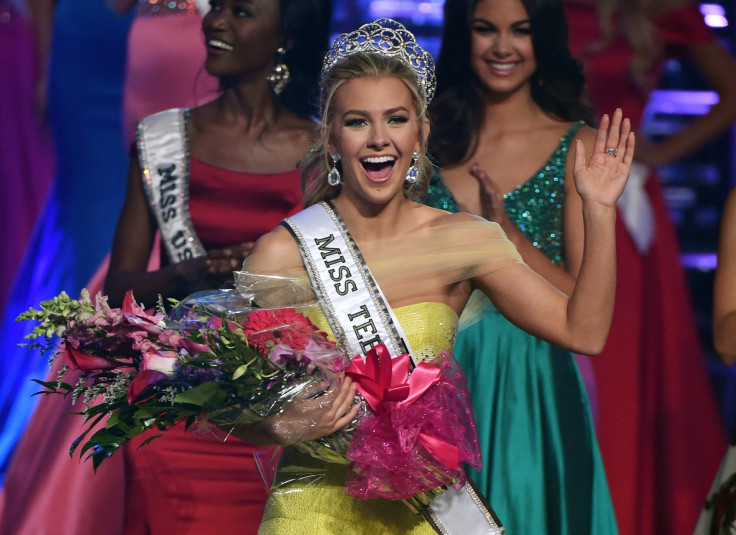 Miss Texas Teen Karlie Hay battled it out with 50 other contestants to win the coveted title of Miss Teen USA 2016 on Saturday (30 July). The pageant winner reportedly impressed the judges in every sphere with her choice of attire as well as her answers during the nerve-wrecking Q&A session.
Dressed in a floor-length yellow ball-gown, the Tomball high school senior was crowned as the winner at the Venetian Hotel in Las Vegas, Nevada. Former Miss USA Olivia and Vine star Cody Johns were the hosts for the teen pageant.
As Hay prepares to represent all the 50 states and the District of Columbia in the year ahead, IBTimes UK has compiled a list of fun-facts about the 18-year-old.
Future plans and career goals
The Miss Teen USA winner has grand plans for her future once she graduates this year. Although she wants to stay close to home, Hay plans to enrol at the prestigious Texas A&M University and become a businesswoman in the future.
Ideas and causes she champions
The teenager has reportedly grown up in a family where alcohol was a problem hence she made it her Miss Teen USA platform to raise awareness of the ill-effects of alcoholism. According to her official bio on the pageant's website, it is "[Hay's] goal to be a national voice about the effects of alcoholism and drug abuse on family members." It further read, "Were her fondest wish to be granted, every child would grow up in a stable and loving home."
Active cheerleader and more
The ambitious teenager has a wide range of interests that varies from cheerleading to community services. She even participates in a number of extracurricular activities that include "varsity cheer captain, yearbook editor and photographer".
Fitness enthusiast
Miss Teen USA 2016 loves to break a sweat as she begins her day with a workout. Even her Instagram photos are testimony to her amazing physique and the hardcore workout regime that she indulges in and in between working on her abs, the teenager takes time out to pursue fun activities like fishing.
Fashion alert
Hay is truly a champion in every field. While she impressed judges with her smart answers and personality, she charmed everyone with her fashion choices as well. From cute LBDs to smart active wears, the teenager carries all her attires with panache.