British singer/songwriter Adele has been spotted with a necklace bearing the name Angelo and it is speculated that is the name given to her son. The 24-year-old gave birth to her first child on 19 October, 2012, but has yet to reveal the child's name. The singer was seen at high-end West Hollywood boutique Bel-Bambini, in Los Angeles, California.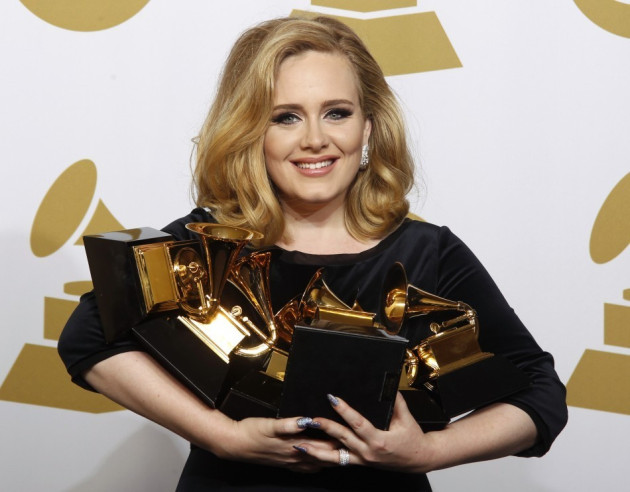 There has been no comment, officially, from either Adele, her boyfriend Simon Konecki (the father of the child) or their publicist. However, The Sun quotes a source as confirming the child's name.
"They've called him Angelo James. What a lovely name. They were supposedly mulling over John, after Adele's grandfather, though. They wanted to keep their choice quiet until they were ready, and wearing the necklace suggests she now is. It is only a name," the source said.
The singer referred to her child as a "little peanut" at the Golden Globes and said she was not yet ready to share her son's name with her fans and the public.
Adele is expected to perform Skyfall (the theme song behind the Daniel Craig-starring James Bond film Skyfall) on Oscar awards night (24 February) and it will be her first live concert since the 2012 Brit awards. She won the Golden Globe for Best Original Song for the song, on 13 January.
The song has also been nominated for the same category in the 2013 Academy Awards, marking the first time in three decades that a James Bond theme walked away with top honours; the last song was For Your Eyes Only (1982) by Sheena Easton. Should win the Academy Award, it will be the first time a James Bond track has ever won the accolade.
"It's an honour to be nominated and terrifyingly wonderful to be singing in front of people who have captured my imagination over and over again. It's something I've never experienced and probably only ever will once," she said, speaking on her date with the Academy Awards.