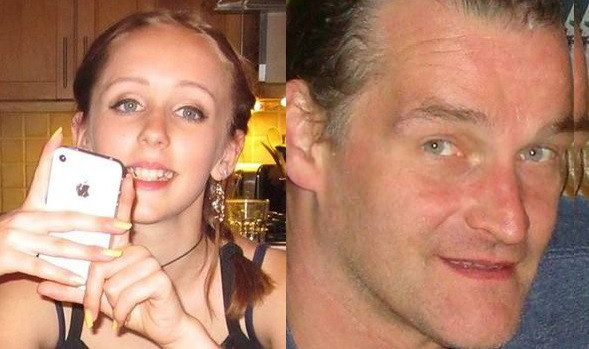 The body of Arnis Zalkalns has been removed from a West London park.
Zalkalns was wanted in connection with the investigation into the murder of 14-year-old Alice Gross.
His body was discovered hanging in woods at Boston Manor Park, a mile from where the schoolgirl's remains were found.
Alice was abducted and murdered while walking home along a canal towpath in Hanwell. After a five week search she was found dead in the River Brent. Police said "significant efforts" were taken to conceal her body in the water.
A convicted killer from Latvia, Zalkalns was identified from CCTV footage, placing him close to the scene of the murder. He was filmed cycling along the same route behind Alice on the day she vanished on 28 August.
A week after Alice went missing, he vanished from his flat in Ealing where he lived with his partner and child.
He reportedly sent his family a final text saying: "I love you all."
His body, which was badly-decomposed, was taken by private ambulance to a mortuary in west London. A post-mortem examination will be conducted.
Local residents have expressed their shock at the grisly findings in their local park.
57-year-old Zahra said: "I used to like this park, but now I feel it's not a safe place. I have been very upset about Alice Gross, I couldn't sleep when the body was found."
The Latvian labourer worked at a building site in Isleworth, west London, and is thought to have come to the UK in 2007. He was freed from jail after serving a prison term for bludgeoning and stabbing his first wife Rudite to death in Latvia.
A former detective who once interrogated Arnis Zalkalns, described him as a "callous" murderer who could "kill again". The retired police officer, who did not want to be named, interviewed Zalkalns following the brutal murder of his wife Rudite in 1998.
"I've investigated many murder cases in my career but this was the most callous case I've ever come across," he said.
"This man made me sick. In interview, sometimes he cried, sometimes he got agitated and sometimes he had violent mood swings. But he never showed any remorse. He always said: 'She deserved it'."
"He is the type of person who could kill again. This man has come back to haunt us."
It has also been reported that Zalkalns was arrested in London on suspicion of indecently assaulting a 14-year-old girl in 2009, but was never charged.
Authorities are now facing criticism for holding no record of his conviction.
Meanwhile, a post-mortem examination on Alice was inconclusive and further tests are to be carried out to find out how she died.