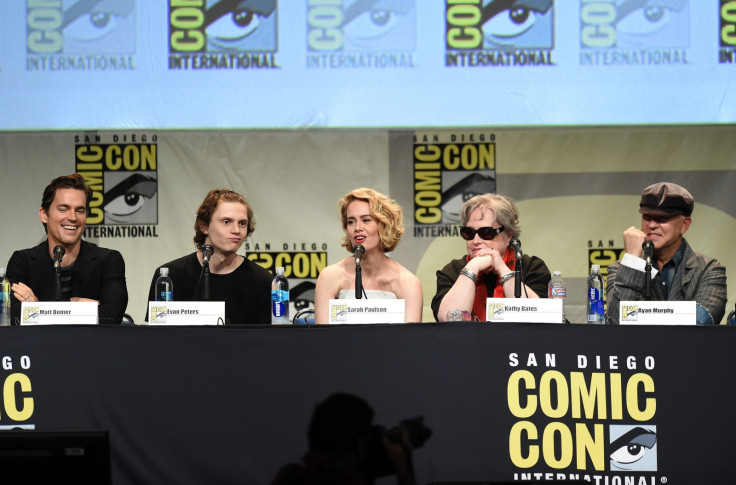 Lady Gaga will make her TV acting debut in the next season of anthology series, American Horror Story and now, fans have been given their first, albeit fleeting glimpse, at what the Born This Way singer will look like on the show.
Speaking about Gaga's role in the series at San Diego Comic-Con over the weekend, series Ryan Murphy recollected how the singer got into contact with him about starring in the next season, to which he swiftly replied: "Yes, yes, yes," he told audience members.
"She said: 'I want to be evil,'" he remembered. "And I said: 'OK, you came to the right place.
"She's been very collaborative and incredibly fun. When you work with someone like her, you sign up for something that is larger than life, and I think that's what you want. Part of her role involves fashion."
And both of those characteristics are certainly believable too, after watching the incredibly short sneak peak of her character, which depicts an ornately decorated sleeve and hand, complete with silvery-looking skin and sharp, taloned nails. "You want Lady Gaga to look a certain way. The designers have been coming out of the woodwork with looks for her."
In true AHS style, it doesn't give too much away. There's no dialogue and if anything it makes us want to ask more questions rather than having any of our existing ones answered, but that only adds to the intrigue. It's been known to feature other-worldly creatures including witches, ghosts and zombies, and Gaga's appearance in the sneak peak can't help but make you think that they might be going into more supernatural territory again after a fairly realistic season last time round.
It definitely looks creepy too, which will please older fans of the show that claim the series lost its "horror edge" post-season two with the lighter series' Coven and Freakshow.
The Bad Romance hitmaker announced back in February that she was going to star in the upcoming fifth season, simultaneously confirming that the show's tagline would be "Hotel," sending existing AHS fans into somewhat of a frenzy. She revealed the news by posting a short video of herself on both her Instagram and Twitter accounts
And it seems as if Lady Gaga won't be the only "evil" character featuring this season, which Murphy claims to be the "darkest one yet", either. Speaking at the weekend, during his joint American Horror Story/Scream Queens panel, the Glee creator gestured towards the AHS side and commented: "Actually everybody on this side of the table are bad boys and girls this year."
Murphy and the studio behind American Horror Story have certainly been selective when it comes to what has been released to fans and what hasn't, in association with particular characters. We may have seen a first glimpse at Lady Gaga's character, the first of any on the show, and know that she will play a bad guy but we don't know the name of the person that she is playing or anything detailed about her role whatsoever.
People's names we do know, however, include most of the main cast; Matt Bomer will be Donovan, the reported lead man in Hotel, Evan Peters will play Mr March who has something to do with Room 64 specifically, Sarah Paulson's character is called Hypodermic Sally, Angela Bassett will portray Ramona and Kathy Bates will play hotel manager, Iris on the show.
American Horror Story: Hotel is scheduled to premiere on FX in October this year.