The changelog for the new Android 4.4.3 software has surfaced revealing a number of new changes and improvements in the update.
There have been rumours over the past few weeks that the Android 4.4.3 version is expected soon. Meanwhile, recognised developer and Twitter leakstar, LlabTooFeR confirmed that the Android 4.4.3 version is undergoing testing. The software update is expected to bring a fix for a known camera bug issue.
Now, Android Police, after speaking to a source familiar with the matter, reports Android 4.4.3 is going to be an update based on bug-fixes. It will also address the issue of high CPU usage of mm-qcamera-daemon. But there will not be any new feature or UI changes which Google is reportedly keeping for its next major release.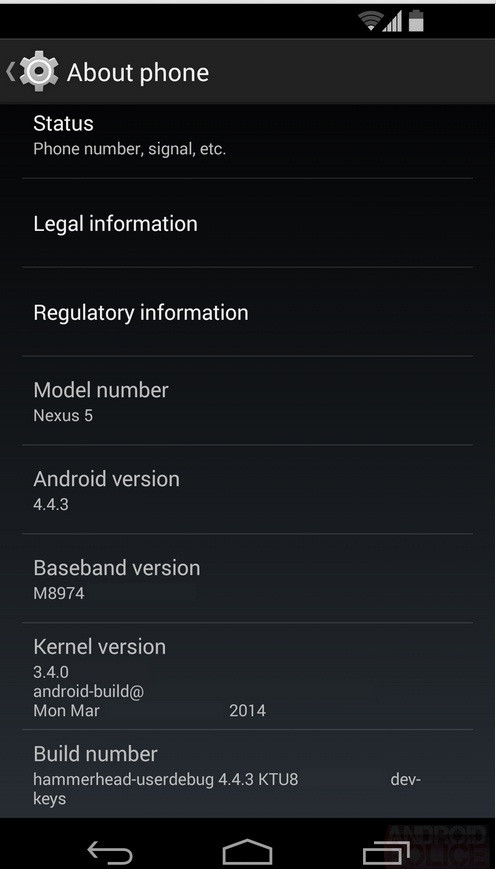 The source also provided a changelog for Android 4.4.3, which comprises of a number of fixes and a screenshot of Android 4.4.3 running on Nexus 5, with some parts redacted.
What are the changes in Android 4.4.3?
Frequent data connection dropout fix
mm-qcamera-daemon crash and optimisation fixes
Camera focus in regular and HDR modes fixes
Power Manager display wakelock fix
Multiple Bluetooth fixes
Fix for a random reboot
App shortcuts sometimes got removed from launcher after update
USB debugging security fix
App shortcuts security fix
Wi-Fi auto-connect fix
Other camera fixes
MMS, Email/Exchange, Calendar, People/Dialer/Contacts, DSP, IPv6, VPN fixes
Stuck in activation screen fix
Missed call LED fix
Subtitle fixes
Data usage graph fix
Internet telephony fix
FCC compliance fix
Miscellaneous fixes
These features are from a test build and there is no information as to when the final version will be rolled out.