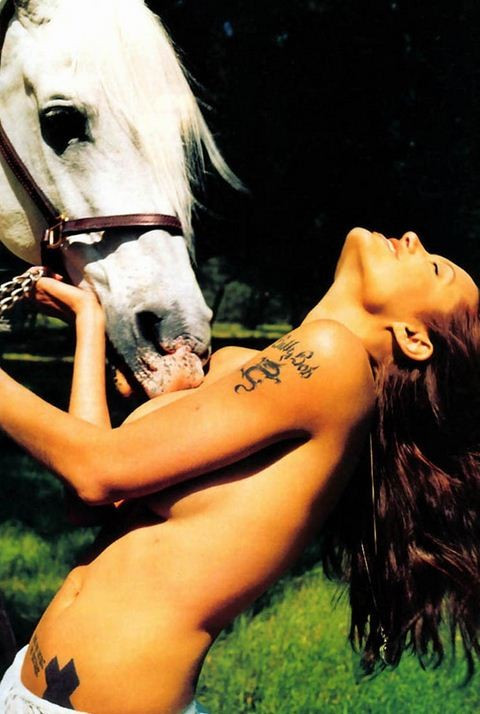 Hollywood star Brad Pitt is ready to bid big to buy a topless photograph of his partner, Angelina Jolie. The couple, dubbed Brangelina and rated one of Hollywood's most glamorous and influential pairs, will face competition for the photograph when it goes under the hammer, in London, next month.
The photograph was taken by David LaChapelle and is admittedly a very racy image. It shows the then 25-year-old actress playing with a white horse and displaying her array of tattoos. She is seen with her eyes closed and her head thrown back, as the horse nuzzles her breasts.
According to The National Enquirer, the 49-year-old actor "doesn't want anyone else to see Angelina Jolie horsing around."
"Brad is prepared to pay whatever it takes to get the photo," a source said, "Brad finds the photo of free-spirited Angie very sexy, although he's not wild about the (Billy Bob Thornton; Angelina Jolie's former husband) tattoo on her shoulder."
The photo, which will go under the hammer as part of the Wild Side of Photography sale at auction house Christie's, is expected to fetch between £25,000 and £35,000.
"Brad wants to keep the photo for himself but he's also out to protect Angelina's new image as an A-list actress, doting mother and United Nations human rights crusader," the insider added.
Also included in the collection is a black and white photograph of the couple posing as husband and wife for Steven Klein in 2005. The image, which appeared in W magazine, was taken before the two were officially an item and is expected to raise between £8,000 and £12,000.
The Mr & Mrs Smith stars have been together since 2005 and were engaged last year in April.
Brad Pitt Zombie Movie Set for June Release
Pitt is preparing for the release of new movie World War Z on 21 June. The action film is based on the book of the same title and has Pitt playing a United Nations employee in the middle of a zombie attack.