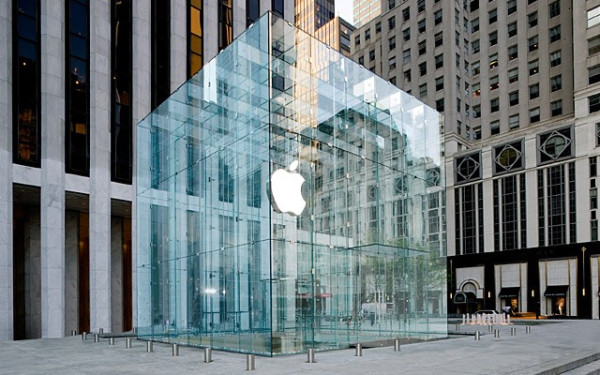 Apple has rolled out a shipping guide for the big holiday shopping season to ensure prospective consumers of iPads, iPhones and Macs will get their orders delivered by 24 December, 2013. The company has refreshed its US Online Store with a deadline schedule for important orders on Macs, iPads, iPhones and accessories, which have been placed on or before 22 December.
The orders placed before 22 December are poised to follow the standard shipping schedule, and those ordered on 22 December will enjoy the privilege of free next day shipping for select devices.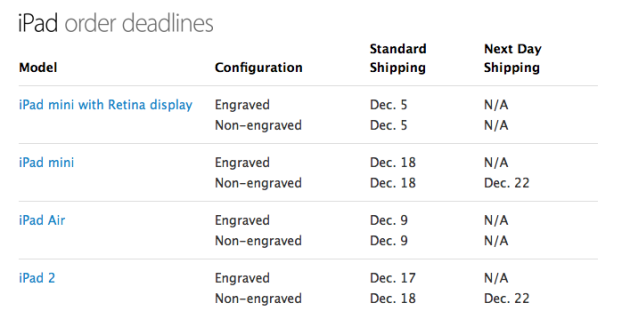 As iDownloadBlog reports, the deadlines are set to vary from one product to another. For instance, Apple's free next day shipping is available for non-engraved versions of iPad mini and iPad 2 only, while newer iPad models such as iPad mini with Retina display or iPad Air should go through the standard shipping process.
The complete breakdown of ordering deadlines across all Apple products is given below:
iPad mini with Retina display has a standard shipping order deadline set for midnight on 5 December, while late orders will be delayed beyond 24 December and treated as post-Christmas deliveries.
iPad Air gets a deadline of 9 December for 24 December delivery, while iPad mini and iPad 2 (non-engraved) orders get a breather with their ordering deadline set for 18 December. The engraved version of iPad 2 has an ordering deadline of 17 December.

The new iPhone 5S should be ordered on or before 12 December and there is no next day shipping option for last minute orders on the flagship phone.
Last minute orders (free next day shipping) can be done on 22 December for select Macbook products such as Macbook Air, Macbook Pro, Mac mini and iMac. But, this offer is limited to standard configuration, while custom models qualify for standard shipping process with their ordering deadlines set for 18 December.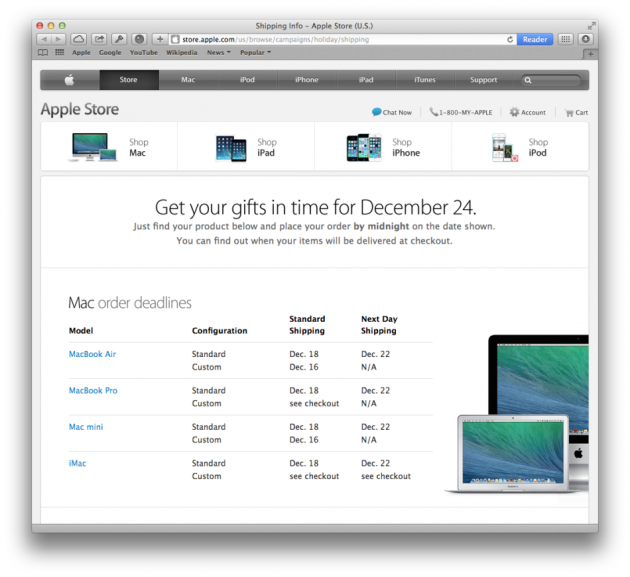 Some custom Macs will have a specified deadline set at the time of checkout depending on the configuration and will usually ship within 1 to 3 days of ordering.
Apple's music player and set-top box, all iPod models and Apple TVs come with the ordering deadline of 18 December for 24 December delivery. All other Apple accessories will get their delivery estimates during checkout.
All devices listed under standard shipping schedule are in-stock products that ship within 24 hours, unless any customisation or engraving is required.
Apple has confirmed that there is no minimum purchase required to avail of the free next day shipping option on select models. In addition, the product return or exchange period has been extended to cover all purchases during the pre-Christmas and post-Christmas holiday season. Consequently, customers have time until 7 January, 2014 to exchange products purchased between 1 November, 2013 and 25 December, 2013.