Greenpeace has released its annual report comparing the clean energy policies and commitment to renewable energy from major internet companies from around the world. Two-time chart-topper Apple once again led the pack with an 83% clean energy index. Google and Facebook also enjoyed an overall "A" ranking alongside the iPhone-maker.
The report card looked less favourably on other notable tech giants, however. Samsung and Twitter were heavily criticised, while Amazon Web Services – a global cloud-computing subsidiary of Amazon.com – was reprimanded over the transparency of its policies.
"Apple has remained among the most aggressive in the sector in its efforts to power its online platform with renewable energy," read the report. "Apple continues to play an important role in opening access to renewable energy new markets where it has located its data centres, such as the company's most recent data centre in Arizona."
The Cupertino company was also praised for the clarity of its clean energy reporting, as well as its siting policies, with the report stating: "Since adopting its 100% renewable commitment in 2012, Apple has maintained a strong siting policy, requiring any new data centre location to have the ability to secure 100% renewable energy."
Apple's Redmond rival Microsoft received a "B" grade and a 32% index score. Greenpeace note that after being "a solid C student at best" for the last two years, "new policy and commitments recently announced by Microsoft President Brad Smith have apparently marked an important shift in strategy, pointing Microsoft away from its claim that its data centres are already 100% renewable."
While Facebook and Google also received pats on the back (67% and 56% index scores, respectively), questions were raised over the accessibility and clarity of reports originating from Samsung SDS - a IT-service affiliate of Samsung - and Amazon Web Services. The former received an overall "D" grade with Greenpeace highlighting a data centre in Sangam with "on-site renewables equivalent to 6% of its total electricity demand".
Despite Amazon's advocacy of pro-clean energy laws, the report's lead author Gary Cook took umbrage with how it relayed details of its energy footprint: "Amazon continues to talk a good game on renewables but is keeping its customers in the dark on its energy decisions. This is concerning, particularly as Amazon expands into markets served by dirty energy," wrote Cook.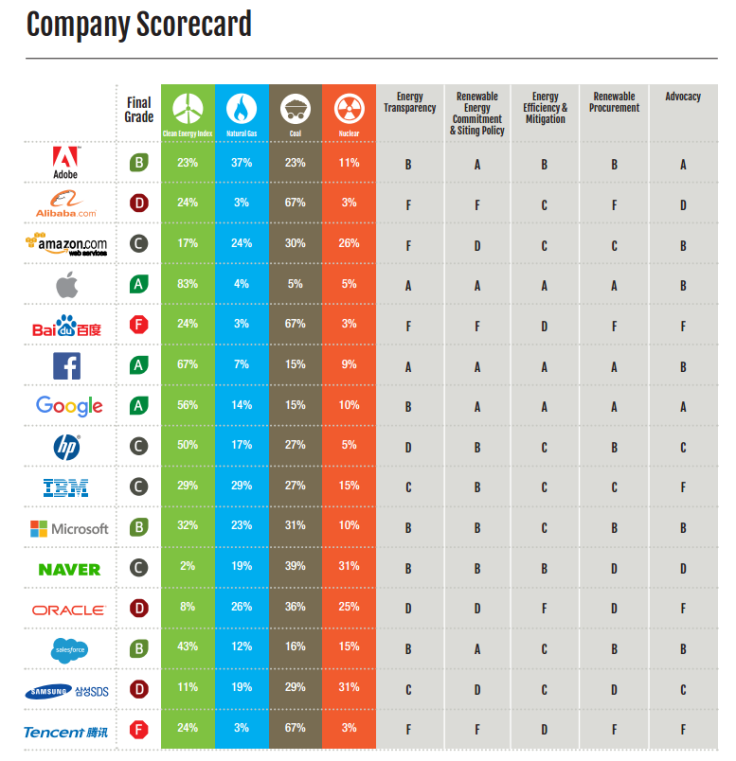 The full breakdown (which can be downloaded here) also casts an eye over video and music streaming services, blogs and social media companies, with Netflix receiving an overall "D" and Twitter and Reddit each slapped with "F" for not providing Greenpeace or the public with any information.
Cook also used the report to stress the need for all of the technology leaders listed to strengthen their stance on renewable energy in light of President-elect Donald Trump's imminent inauguration on 20 January.
"In [technology markets], a much greater focus on advocacy is needed to overcome the entrenched political power of the utilities and create a pathway for the rapid adoption of renewables. This is particularly true in the United States following the election of Donald Trump, who has promised to roll back climate policies and revive the use of coal. Sustained and vocal advocacy by corporations, who recognise the ecological and economic imperative for an aggressive transition to renewable sources of electricity, has never been more important in the United States."