Apple's Tim Cook defends meeting with Donald Trump, says 'You don't change things by just yelling'
'Personally, I've never found being on the sideline a successful place to be,' Cook said.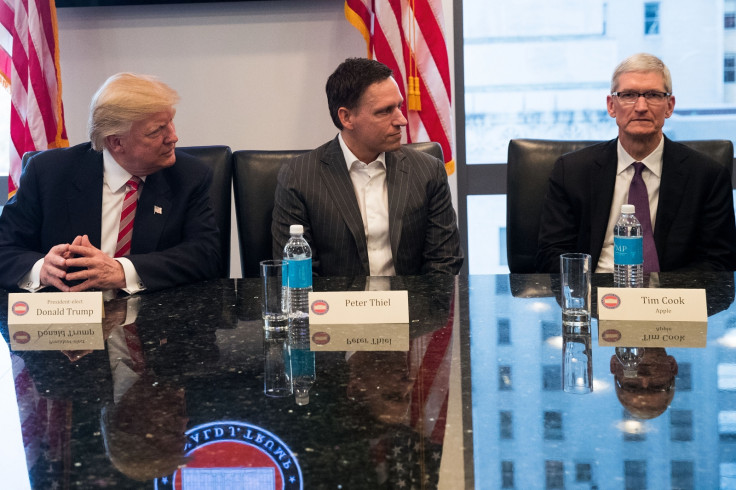 Apple CEO Tim Cook has explained to his employees why he recently met with President-elect Donald Trump last week, saying he felt it was necessary to engage in a discussion over issues that affect the company and the technology industry. Cook, along with a dozen top tech leaders, were invited to meet Trump and his administration at a tech summit at Trump Tower in New York on 14 December.
"Personally, I've never found being on the sideline a successful place to be," Cook told employees in response to a question posted on Apple's internal employee info service on Monday (19 December), TechCrunch reports. "The way that you influence these issues is to be in the arena. So whether it's in this country, or the European Union, or in China or South America, we engage. And we engage when we agree and we engage when we disagree.
"I think it's very important to do that because you don't change things by just yelling. You change things by showing everyone why your way is the best. In many ways, it's a debate of ideas."
The tech summit was attended by some of the biggest names in the technology industry including Alphabet's Larry Page and Eric Schmidt, Microsoft's Satya Nadella, Tesla's Elon Musk, IBM's Ginni Rometty and Facebook's Sheryl Sandberg among others.
Trump's incoming chief of staff Reince Priebus tweeted that the meeting featured "productive discussions about job creation and economic growth." A source briefed on the meeting told CNN that the key issues discussed at the summit included jobs, immigration policy and China.
"Governments can affect our ability to do what we do," Cook said. "They can affect it in positive ways and they can affect in not so positive ways. What we do is focus on the policies.
"Some of our key areas of focus are on privacy and security, education. They're on advocating for human rights for everyone, and expanding the definition of human rights. They're on the environment and really combating climate change, something we do by running our business on 100 percent renewable energy."
During his election campaign, Trump did clash with multiple Silicon Valley executives and companies including Apple. In February, the then-Republican candidate called for a boycott of Apple products until the company complies with the FBI's demand to help it break into the iPhone used by one of the shooters in the San Bernardino attack.
Many executives also previously voiced their concerns about a Trump presidency, his behaviour, and his proposed immigration and trade policies.
In November, Trump said he received a post-election call from Cook during which he reportedly told the CEO that he intends to get Apple to build its products in the US.
"I said, 'Tim, you know one of the things that will be a real achievement for me is when I get Apple to build a big plant in the United States, or many big plants in the United States, where instead of going to China, and going to Vietnam, and going to the places that you go to, you're making your product right here,'" Trump told the New York Times.
He also promised to create incentives such as tax breaks and reduced regulations saying, "I think you're going to do it."
At the meeting, Trump called the assembled Silicon Valley elite "a truly amazing group of people," assuring them that he and his administration are "going to be here for you." Hours before the tech summit, Trump's transition team announced that Musk, Uber CEO Travis Kalanick and Pepsi chief executive Indra Nooyi will be joining Trump's Strategic and Policy Forum to provide their input on the impact of government policies on job creation, economic growth and productivity.
"We very much stand up for what we believe in," Cook told his employees. "We think that's a key part of what Apple is about. And we'll continue to do so."
© Copyright IBTimes 2023. All rights reserved.