Tesco is closing 43 stores, Morrisons has fired its CEO and Sainsburys' share price dropped a whopping 36% in the last year.
While the business pages will likely disagree, this should be a time for national celebration. Let's cheer from the rooftops and march in the streets. Let's create a new national day dedicated to burning their logos.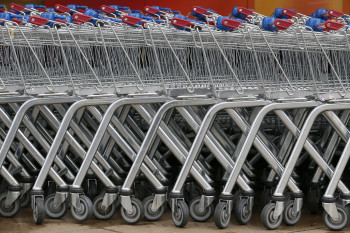 The big four UK supermarkets (Tesco, Sainsbury's, Asda, Morrisons), with over 70% share of the market, have managed to leave a path of destruction in their wake: neighbourhoods, companies, farmers, the environment - all have all suffered for the sake of the "convenience" and "choice" billed by the industry.
They're responsible for the fact the UK now has half the number of dairy farmers it did 10 years ago, and those still hanging on by a cow's teat are failing to meet the costs of production because the supermarkets use them as pawns in their competitive price wars.
They're responsible for keeping farmers and workers in developing countries living on slave wages, swimming in pesticides, while they grow and pack our perfectly aligned vegetables, prawns, or exotic nuts.
They're responsible for reducing the variety of foods we grow and eat, ensuring cardboard-tasting (but visually appealing) fruit and veg are consumed instead, because they have a longer shelf life.
They're responsible for growing levels of food waste at a time when global food scarcity is increasingly an issue. Mountains of food lie rotting in farmers' fields, for lack of uniformity or alleged consumer demand, while shoppers' regular hoarding of over-filled baskets ends up uneaten in the refrigerator by the week's end.
They're responsible for ensuring we're in the dark about health matters on our food, having backed the largest ever lobbying effort to keep labelling at a minimum, against the recommendations of medical experts the world over.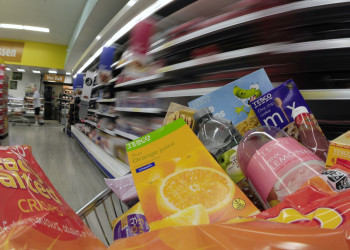 They're the innovators of non-consensual data mining to build customer profiles so they can manipulate spending habits to wring out as much profit as possible. Far from saving us money, they know all the tricks to make sure we spend more and more money on stuff we don't need that makes us sicker, poorer, and emptier.
They're complicit in our rising obesity rates, in chickens living in tiny cages for increasingly short lives, for declining fish stocks. Everything about the supermarket model goes contrary to any semblance of sustainability, despite whatever PR firm they've hired may claim.
They push a mass-produced, mass consumption model that relies on cheap labour, and a burned-out consumer with few choices left to shop anywhere else, as the supermarkets crowd out small businesses on the high street, trample over young companies with innovative products, and drown anyone else in their wake.
We can feel very sorry for the people already on zero-hours contracts, being laid off at the expense of the million pound payouts to the failing chief executives. And we should feel sorry for the farmers who will be left even worse off, at least in the short-term, as contracts are cancelled and supplier businesses collapse.
The failure of the big supermarkets may not really be a sign that evil doesn't pay – the rising stars in the sector are Aldi and Lidl, discount supermarkets both at the centre of the horse meat scandal. But it's a positive sign that Waitrose, a more ethical supermarket, is faring better in these troubled times.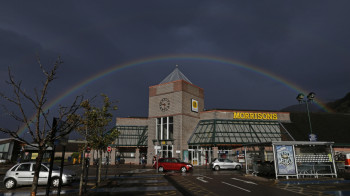 Poorer consumers, though, still have little choice but to forage between one evil player and another until we build a more ethical, localised food system that treats its supply chains and its customers fairly.
It is possible, and some are showing how to do it, but we have a long way to go until they're accessible to all. In the meantime, have no mercy, eschew the supermarkets wherever possible, and rejoice in what could be the end of an evil empire that we should all be grateful to see the back of.