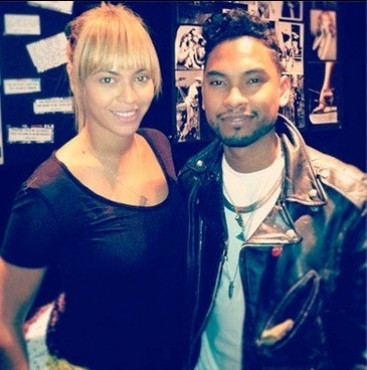 R'n'B singer Miguel has ignited rumours that he is collaborating with Beyoncé on her next album after posting a snap of them in the studio.
Just weeks after the 26-year-old Californian star released his debut album Kaleidoscope Dream , he appears to have returned to the studio to help out the Single Ladies songstress.
In the snap on his Instagrm page, the duo pose side by side against a studio backdrop with smiles on their faces.
Miguel captioned the cryptic image: "Woah. Creating for Virog's [sic] all weekend."
The shot of the duo, however, was quickly deleted from the Adorn hitmaker's page, though not before it made its rounds online and the mystery collaboration became a trending topic on twitter.
One fan wrote: "Nice combo! I can't wait to see what these two comes up with."
Another said: "This post just made my day... i love Beyonce' & i love Miguel... yes im a faithful Beyonce/Kelly fan & have been one since the 90s & nothing will change that... & i need a Destiny's Child Reunion because my heart cant take it anymore lol"
This is not the first time Beyoncé has teamed up with an rising star.
In 2011, she worked with Frank Ocean to record the I Miss You.
What do you think? Would you like to hear Beyonce and Miguel work on an album?