Black Friday 2015 has landed. Here we have rounded up all of the best technology deals for you to spend your last pre-Christmas paycheque on. We've got iPhones, tablets, GoPro cameras, the Samsung Galaxy S6 and much, much more.
This article will be updated from midnight on Thursday night, right up until the end of Black Friday itself, 27 November. Below we've rounded up all of our Black Friday articles to date, then once the websites go live we'll had more right here.
Scroll down to view live Black Friday deals as we find them...
---
Which stores are least likely to crash?
Black Friday smartphone deals
---
Black Friday technology deals
---
Black Friday gaming deals
---
Black Friday deals live:
11:10 - More details? Oh, go on then. Here's a selection from our friends at Hot UK Deals:
---
12:35 - Always wanted a gold plated smartphone? Well now you can get 25% all gold-covered products from Gold Genie, using the voucher code BLFRI2015 on the gaudy gift website. Now a gold iPhone 6s will cost just £1,875...
10:30 - Sorry for the delay, I've been writing about how 24% of British adults admit they will 'push and shove' others out of the way to grab a Black Friday bargain. Yes, really.
Anyway, Currys PC World has sent across some stats on how Black Friday kicked off for them:
• Eight sales per second
• 30 TVs per minute selling online
• Yesterday's website traffic almost as high as Boxing Day last year
• Seven million visitors to the site this week alone
• Peak in mobile traffic as deals went live at 6am
And here's a photo from Amazon's warehouse showing loads of its budget Fire tablet, which is just £34.99.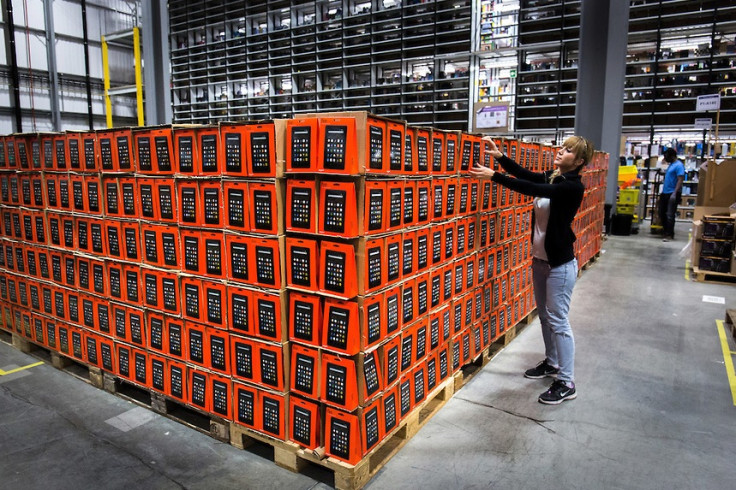 09:30 - The Apple Watch has been one of the most sought-after products this Black Friday, so we've created a rundown of the best deals we've found for Apple's wearable.
08:50 - Morning! As dawn breaks on Black Friday 2015, one thing is clear; the sheer pandemonium of 2014 is nowhere to be seen. Retailers chose not to open at midnight, severely reducing the need for people to fight over bargains, and websites have mostly remained online and functional.
Apple specialist KRCS has been struggling this morning, but otherwise everyone has put in a pretty solid job. I'll be updating this article throughout the day with any more tech deals I come across.
01:25 - I think that'll probably do for now. Black Friday has been rather different this year - no stampedes, no fighting over cheap TVs, no police and no massive website crashes. Good job, internet! I'll be back in a few hours...
01:05 - Remember Asda on Black Friday last year? Yeah, it opened stores at midnight, then everyone piled in, fought over cheap televisions from a company no one had ever heard of, then the police came and closed it all down.
Anyway, Asda isn't doing Black Friday this year. Here's the explanation:
01:00 - Amazon has knocked money off a number of its own products, including the Fire TV Stick, Fire Tablet and Kindle Paperwhite. Here's everything you need:

00:40 - Next up it's O2. The network has launched a Black Friday page with money off a range of SIM-free and contract phones. Here's a teaser of what's on offer: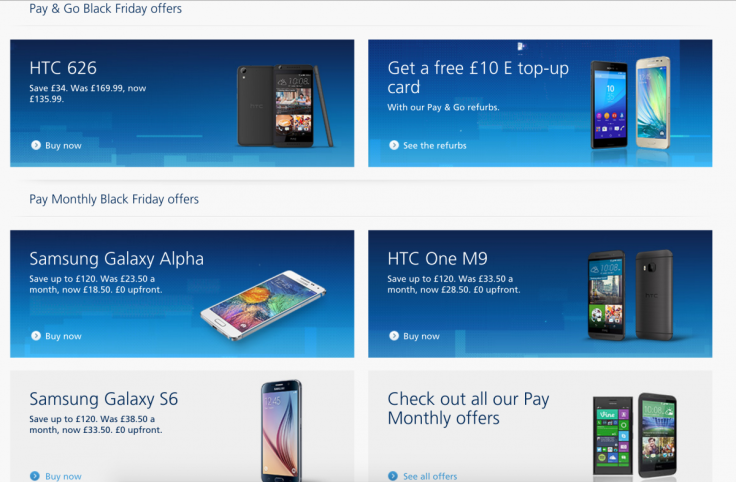 ---
00:35 - Mobiles.co.uk has also ripped the covers off its Black Friday page, where you can get discounts on the iPhone 6s, Samsung Galaxy S6 Edge and S6 Edge Plus, the Sony Xperia Z5 Compact and more.
00:30 - Here are the Black Friday deals on Apple products from KRCS - and they're looking good. Up to £300 off MacBook Pros, £364 off iMacs, £56 off the Apple Watch, and up to a massive £933 off the Mac Pro.

---
00:20 - Here's a bit of a deep dive into Tesco's tech deals:
---
00:10 - John Lewis, with its 'Never Knowingly Undersold' promise is also getting involved with Black Friday. It's offering money off:
---
00:05 - Tesco's deals include money off games and console bundles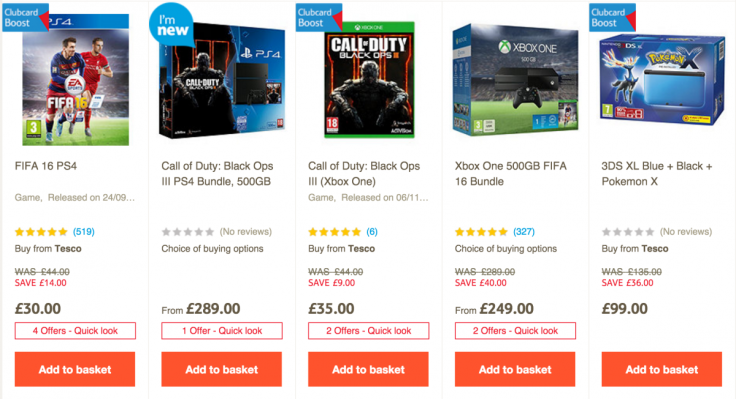 Other Tesco deals include a 32in Full HD Samsung Smart TV for £267 - that's a saving of £92.99
00:00 - Well, there we go. Black Friday is now with us and, unlike last year, the Tesco website is still alive.
---
22:00 - Carphone Warehouse has a number of deals on offer, including money off the iPhone 6s, iPhone 6, HTC One A9 and the Samsung Galaxy S6 Edge.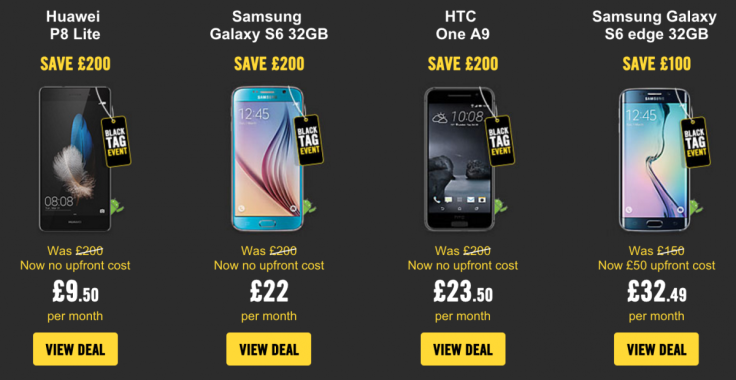 21:50 - Well that didn't take long...Game's website has crashed.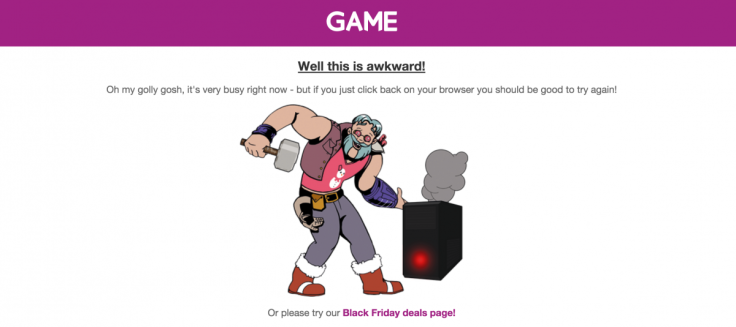 21:45 - Game's Black Friday website is also now online, with new deals being added every few hours.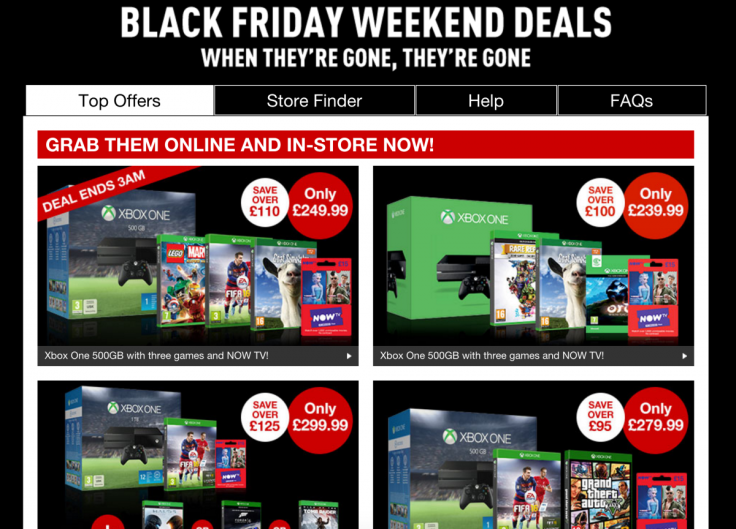 Game is offering the following Xbox One game deals:
Halo 5: £34.99
Forza 6: £29.99
Gears of War: Unlimited Edition: £18.99
Sunset Overdrive: £19.99
Wireless controller: £39.99
---

21:30 - Argos has opened the doors to its Black Friday website, more than two hours early. It too is struggling to cope with demand, as it is loading slowly. Once you get in though, there are some pretty good tech deals to get your hands on.
These include:
20% off Beats headphones
Toshiba 48in Ultra HD television for £479
Hitachi 40in Full HD television/DVD combi for £230
Seiki 55in Full HD television for £349
GoPro Hero 3+, plus additional battery for £149.99
Nutri Ninja Lite blend for £39.99
iPhone 4s for £99.95
Dyson DC50 vacuum cleaner for £229.99
Lenovo 11.6in laptop for £129.99
---
There's much more to come...