Black Lives Matter solidarity protests to be held across Britain
Demonstrations will be held to protest the killings of black men by US police.
Marches and demonstrations in support of Black Lives Matter are planned to take place in London, Birmingham and Manchester in the coming days and weeks. Although the movement originated in the US, and has so far centred on the hundreds of black people killed by American police officers, it is now set to grow into an international movement.
Following a week in which the US was scandalised as police officers were filmed killing two black men, and then five officers were assassinated by a lone gunman at a Black Lives Matter rally in Dallas, supporting protests were organised in a hurry in London. A peaceful crowd of thousands gathered at the city's major Oxford Street shopping district on Friday night, before marching on the Houses of Parliament in Westminster, shouting slogans like "hands up, don't shoot", putting their fists in the air and waving banners.
More marches are now planned in the capital and elsewhere, in response to the fatal shootings of Philando Castile in Minnesota and Alton Sterling in Louisiana. A gathering is planned at Birmingham's Bullring shopping centre at midday today (9 July), while another will start at 4pm in Windrush Square in Brixton, a historically black district of London.
Another is planned to start at 10am on Sunday morning at the Oxford Circus interchange in London – an area popular with tourists and shoppers – while people will gather in Manchester's Alexandra Park on Monday, 11 July, at 6pm. Further protests are planned for August.
The London chapter of the Black Lives Matter movement was founded in part by Marayam Ali, an 18 year-old sixth form student. Ali told told The Voice – a newspaper that serves Britain's black communities – that she wanted to show solidarity with "our American brothers and sisters".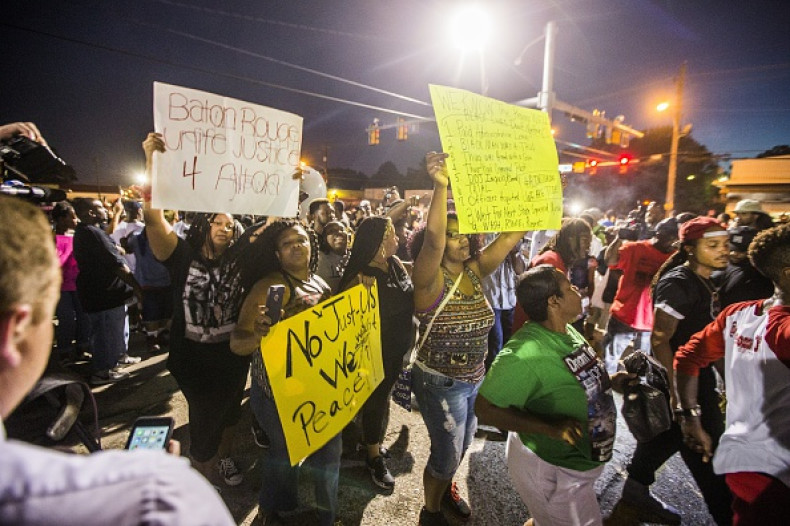 "By these people coming here to stand and unite," she said, "they are showing that they are against police brutality and that's the most important thing. I think people forget that racism is a worldwide thing. It's still very prevalent. This is ultimately a cry for help. "
Sterling, a 37-year-old father was killed on 5 July, while being arrested for selling CDs outside a petrol station in Louisiana. The police officers claimed Sterling was armed, seconds before they shot him as he was being held down on the ground.
A day later, Castile was shot dead after his car was stopped by a police officer. The officer claimed Castile was reaching for a gun – for which he had a proper license and documentation, the legal right to carry, and had informed the officer was in his possession. Both men's deaths were filmed and witnessed by millions.