While speculation mounts as to the reasons behind Angelina Jolie and Brad Pitt's split, it seems that jealousy and insecurity were a factor in the demise of the marriage. Widely regarded as Hollywood's A-list power couple and two of the most beautiful people in the world, Brad and Angelina seemed perfectly matched when they embarked on their ill-fated romance 12 years ago.
However, it seems that there are inevitable perils to being married to a man who is an international pin-up, and Jolie became very aware of the attention that continued to be showered on her husband during their relationship.
Former Disney star Selena Gomez reportedly incurred the Maleficent actress's ire after she publicly revealed she had a crush on the father-of-six, jokingly referring to him as her "future husband."
The 24-year-old posted a picture of herself sitting next to the Oscar winning actor at the Golden Globes. The 52-year-old is seen leaning forwards as he locks eyes with the giggly young star.
According to The National Enquirer the image left Angelina "furious." "Angie blew a gasket when she saw Selena's Instagram, and heard through friends about how Brad and Selena flirted so shamelessly," a source said. "Now Selena is bragging to everyone that Brad is gong ho to make another movie with her. Selena is going around jokingly calling Brad 'my future husband,'and Angie is obviously none too pleased."
Gomez, who was previously in an on-off relationship with Justin Bieber, wasn't shy about expressing her admiration for the Hollywood heart-throb according to Mail Online. She told reporters on the red carpet: "I'm not going to lie. It's nice to look at all of the hot guys I admire. I'm trying to find Ryan Gosling and Brad Pitt right now!"
In a later interview with Ellen DeGeneres, the actress revealed she was star-struck at meeting Pitt backstage after the MTV awards. "I was in my dressing room and I had just finished performing," she told the talk show host. "They knocked on my door and they said Brad Pitt would like to come in and I was like, 'He can come in.'
"I was trying to play cool and be really nice. As soon as he walked out I ran and I hid under the craft service table for like two minutes because I couldn't believe it was happening. He was like, 'Can I have a picture with you?' I was like, 'Can I have a picture with you?'" she explained. adding: "He's so pretty."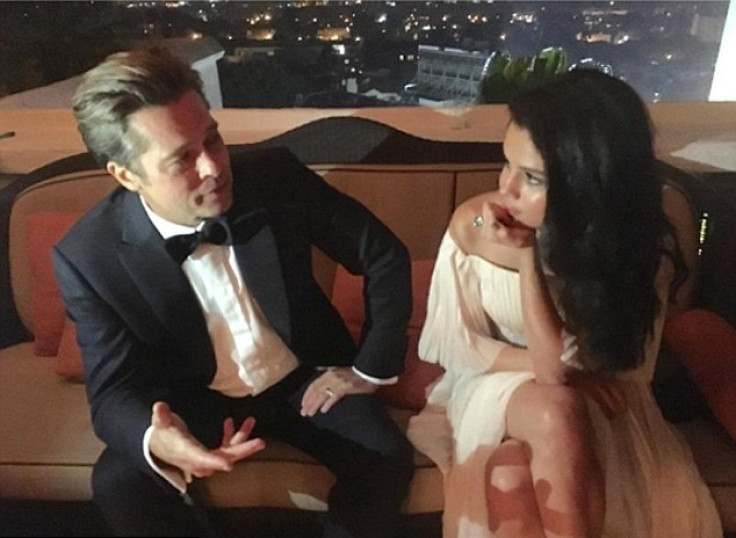 Selena later worked alongside Brad in The Big Short, but Angelina put an abrupt end to any future professional or personal association between the pair, reportedly insisting that Brad didn't work with the young star again.
Meanwhile, Marion Coittilard has also been unwittingly dragged into the couple's divorce following rumours that her alleged affair with her co-star prompted the split. The French actress, who stars in the forthcoming film Allied with the 52-year-old, is said to have received a frosty reception from Jolie after being introduced to her on the set of the blockbuster.
X17 said that the chemistry between the co-stars left Angelina suspicious that Brad was cheating on her. "Angie couldn't handle Brad's sex scenes with Marion. Her jealousy was out of control. Brad tried for months to reassure her and calm her anxiety, but it simply didn't work. She said her intuition was telling her he was cheating.
"Angie has struggled with insecurity over Brad's fidelity for years, but she was never as jealous over a co-star as she was with Marion. She was always paranoid Brad would do to her the same thing he did to Jen."
Soon after the divorce announcement the first trailer for the film was released and according to the film's producer, Graham King, Pitt and Cotillard had an instant connection.
"Brad and Marion immediately had the utmost respect for each other, so once they delved into their characters, their chemistry was electric," he told People Magazine back in August. "By the time we got to set, it was really amazing to see these characters already feel lived-in and real."
The obvious chemistry between the pair seemed to leave Angelina fearing that, shemight suffer the same fate as Brad's ex Jennifer Aniston. Angelina and Brad met and 'fell in love' on the set of the 2005 spy film Mr and Mrs Smith while he was still married to Jennifer Aniston.
The reports of an affair have however left the French actress 'absolutely devastated'. Marion has been in a committed relationship with actor and director Guillaume Canet, 43, for almost a decade and they are parents to five-year-old son Marcel. According to Closer the 40-year-old is due to give birth to her second child in December.
"Everyone in Paris is reporting that Marion is having another baby, and she looks absolutely blooming right now," a source said. "Rumours that she's now cheating on Guillaume with Brad will leave her absolutely devastated. This doesn't sound like her at all." The Mirror, adds: "Marion and Guillaume are blissfully happy, and these kind of claims are not what Marion wants to be hearing."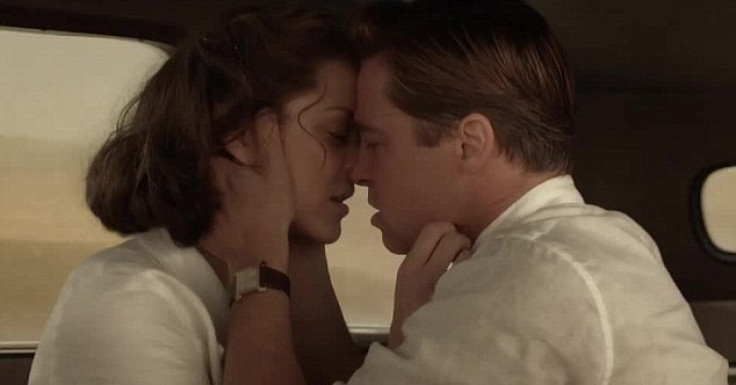 While the couple's marriage has been the focus of ongoing speculation, the divorce rumours were further fueled by reports that Jolie had fired one of her children's "gorgeous" nannies after she caught her flirting with her heart-throb husband.
According to Radar Online, the nanny developed a close friendship with Pitt. "Brad was going in and out of Cambodia as his schedule would allow. He is always well-liked by the staff and friendly with them, but it became obvious the nanny was flirting around him and being a little too friendly," the insider added.
The 40-year-old noticed that the nanny was always hovering around the pool whenever her husband was taking a swim. "Her paranoia grew even further when she saw him fresh out of the shower wrapped in just a towel, getting some juice while the nanny was also in the kitchen with a big smile on her face. That was the final straw for Angie," the source revealed.
"She confronted the nanny and a huge screaming match erupted. Of course, she didn't hesitate to pull the trigger, and the nanny packed her things and was gone faster than you could imagine," the insider added.
Jolie filed for divorce from Pitt on Monday (19 September) citing 'the health of her family', as the reason for the split, just two years after the couple wed at Chateau Miraval, their French estate.
While Brad has appealed to his wife to "turn down the volume" on their very public break up for the sake of the children, the revelations are set to keep on coming as the world watches the sideshow of as the divorce of the century plays out in the glare of the media.
Allied, starring Brad Pitt and Marion Cottilard releases on 23 November. Watch the trailer below: