Bruce Jenner is apparently in hot water with his ex-wife, after allegedly helping himself to $150k worth of dresses from her closet.
According to Radar Online, a source said Kris was left "fuming" after realising several designer dresses were missing, including some expensive items belonging to Kim.
The couple's daughter, Kylie Jenner revealed she saw the dresses hanging in her father's closet at his Malibu home.
The source explained: "Kris and her girls have a closet that's dedicated to all of their designer dresses made by the likes of Balmain and Prada. From time to time, they do inventory of the closet because there are so many expensive items and noticed that some of the garments were missing.
"Kim and Kris were really upset about it," the source said, adding "Kylie actually saw the dresses in her father's closet in his new house and she didn't say anything because she didn't want to upset anybody."
Kylie eventually spoke to Kim about her light-fingered father, who then told her mother. "Kris went ballistic," the source revealed.
The 59-year-old Kardashian matriarch has reportedly been cultivating a collection of her designer clothes since she believes they might someday be exhibited along with Kim's clothes in a museum. "Kris thinks the dresses will end up in the Smithsonian some day, so that's why she's fuming," said an insider. "The closet is dedicated to their gowns from events and she feels she should save them — especially Kim's — because they'll be very valuable one day."
Bruce, who recently revealed his plans to undergo gender reassignment is however reluctant to let go of the prized items, apparently justifying "borrowing" the clothes since "they got the dresses for free from the designers and they aren't going to wear them again. They wear things once."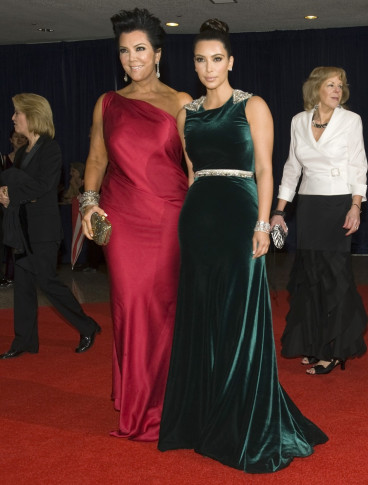 The source added that the 65-year-old is planning to get the dresses re-tailored to his measurements.
"Bruce said that Kris's are actually too big for him. She's a size 10 and he's a size 6. So he's getting them altered."
In typically litigious style, Kris had even threatened to take legal action against her ex-husband.
"Kris threatened to sue him if he did not return the dresses," said the insider. "But she's since calmed down."
The former couple, who were divorced in 2014 after 22 years of marriage, have reportedly been at loggerheads since their split. It was claimed that the momager had threatened Bruce with a defamation lawsuit over his interview with Diane Sawyer last month, midst claims that she knew nothing of his wish to live his lie as woman and as concerned that his revelations about their marriage might be the cause of embarrassment to her. Kris has denied she has been anything but supportive of her former husband as he transitions into a woman.
Kim Kardashian recently opened up about her step-father's decision to undergo gender reassignment, and revealed that while the family remains supportive of the Olympic athlete, they are collectively going through an adjustment period.
Over 17 million people tuned into to hear Jenner describe his emotional journey towards becoming a woman. The Olympic gold-medallist put an end to months of speculation about his increasingly feminine appearance during the ABC two-hour special, by boldly declaring: "For all intents and purposes, I am a woman."
His transition into a woman could be complete by the summer.