Belgian police have now released the moving CCTV images of the "third Zaventem bomber" as he pushes a trolley carrying his bomb through the departure lounge. Police have yet to comment on reports that a suspect matching the description of the bomber – who fled when his explosive failed to detonate – arrested two days after the attack is journalist Faycal Cheffou.
A man referred to only as "Faycal C" has been charged with "participation in the activities of a terrorist group, terrorist murders and attempted terrorist murders," according to prosecutors. Three other men, named as Aboubaker O, Yassine A and Mohamed B, all arrested during raids over the weekend, have been charged with membership of a terrorist organisation.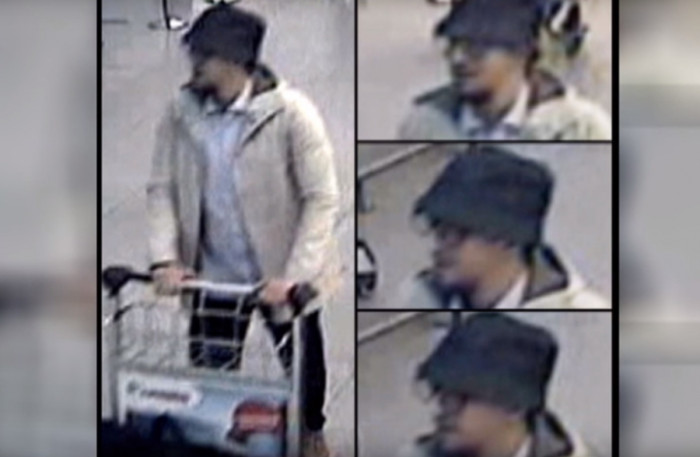 Dutch police also arrested a 32-year-old Frenchman in Rotterdam on Sunday 27 March and arrests have been made in France and Germany. The man arrested in France was said to be in the final stages of preparing an attack, possibly on a Christian procession in Argenteuil.
The death toll from the twin attacks at the airport and Maelbeek Metro station has now climbed to 35, not counting three bombers, after four more people died in hospital. The revised death toll was published by the Belgian Crisis Centre on its website and confirmed by Health Minister Maggie De Block who Tweeted: "Four patients deceased in hospital. Medical teams did all possible. Total victims: 35. Courage to all the families." Over 300 people were injured in the attacks, many of them seriously.
Belgium was under the spotlight even before the Brussels attacks when it emerged that some of those behind the Paris attacks last November came from Brussels. Proportionally more young people travel to Syria to join Isis from Belgium than any other European country. In a video posted by Daesh, Belgian national Hicham Chaib warned that what happened in Brussels was just the start. At the end of the video he shoots an Isis prisoner in the head in a gruesome execution.