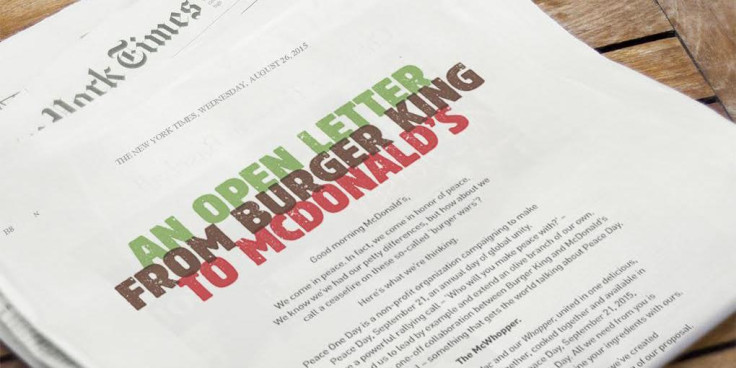 US fast-food chain Burger King says it will collaborate with four other sandwich chains to create a special burger to mark the annual International Day of Peace on 21 September after being snubbed by its biggest rival, McDonald's.
In an open letter, Burger King said it had received offers from Denny's, Wayback Burgers, Krystal and Giraffas to create a one-day-only burger that "combines a key ingredient from each of our signature sandwiches".
It also reiterated its call to arch rival McDonald's to partner up on a hybrid burger called the McWhopper – a blend of the Big Mac and the Whopper.
On 26 August, the restaurant chain took out a full-page ad in the New York Times asking McDonald's to join forces with it for one day only on 21 September, with the proceeds from the hybrid burger's sales going to non-profit group Peace One Day.
But McDonald's chief executive Steve Easterbrook rejected the proposal, saying it was a "great idea" but that the two brands "could do something bigger to make a difference" in a Facebook post.
Hybrid burger
"Although they haven't yet agreed to come on board, our original proposal still stands. McDonald's please take your time. We're totally at peace with that," Burger King said in its open letter on 2 September.
"Meanwhile an incredible thing has happened. We've received a significant number of unexpected responses from other restaurants, large and small, each expressing an appetite for peace and enthusiasm to help spread the Peace One Day message," the letter continued.
"Our idea would be that we all come together to create a burger that combines a key ingredient from each of our signature sandwiches."
Burger King said the hybrid burger will go on sale at a pop-up restaurant in Atlanta, roughly halfway between Burger King's headquarters in Miami and McDonald's headquarters in Chicago.