Caitlyn Jenner has reportedly claimed that an interview with Ellen DeGeneres left her 'alienated' from the LGBTQ (Lesbian, Gay, Bisexual, Trans and Queer) community.
The 67-year-old reality star appeared on Ellen's daytime chat show in 2015 after transitioning. She claims the TV host unfairly challenged her on her earlier views, in which she admitted denouncing gay marriage.
In the interview, the I Am Cait star, who was formerly known as Bruce Jenner and had been married three times, admitted that as a Conservative Republican she was previously something of a 'traditionalist' who disapproved of same-sex marriage. However she insisted that her position on gay marriage had changed over time.
"I have to admit that I remember 15 years ago, 20 years ago, whenever it was that the whole gay marriage issue came up, I was not for it," she said. "I am a traditionalist. I mean, I'm older than most people in the audience. I like tradition and it's always been between a man and a woman and I'm thinking, I don't' quite get it.
"But as time goes on, like a lot of people on this issue I've really changed thinking here, to I don't ever want to stand in front of anybody's happiness. That's not my job. OK. If that word marriage is really, really that important to you I can go with it."
Ellen reacted by suggesting that Cait was 'still a little not on board' with the idea of same-sex marriage.
"No, I'm on board," she replied. "It's going to be pretty much the law of the land. So I still feel like yeah, I'm OK with it. I don't want to stand in front of somebody's happiness."
'Confusing' opinions
In an appearance on The Howard Stern Show, Ellen later described Caitlyn's stance as "confusing" in view of her own struggle to be accepted as a transgender woman.
"She still has a judgment about gay marriage," DeGeneres told Stern. 'I said, "You're wanting people to understand and accept you, this is like really confusing to people. And you want us to understand, and that you still have a judgment about gay people and marriage."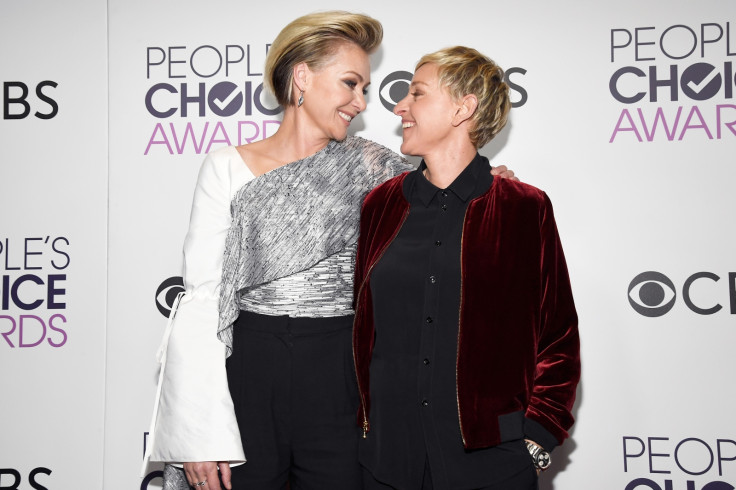 In her memoir, The Secrets of My Life, Caitlyn now claims that her remarks were taken out of context with the result that she has been marginalised by the LGBTQ community.
"I believed, as anyone would, that that was exactly what she wanted to talk about my progression in terms of changing attitude over the years," explained Caitlyn.
"I am for it. I did not initially understand why marriage was so important, influenced no doubt by my own personal experience. Now I do, and it's a wonderful thing to see.
"This discussion further alienated me from members of the LGBTQ community. Ellen's appearance on The Howard Stern Show, where in my mind she even more emphatically took what I said out of context, made it go viral."
Caitlyn Jenner went public with her plans to transition in June 2015, making her debut on the cover of Vanity Fair magazine.
She was later presented with the Arthur Ashe award for courage and was named Glamour magazine's Woman of the Year. She documented her journey on the E! Reality TV series I Am Cait, in which she met with other transgender women who shared their experiences of discrimination.