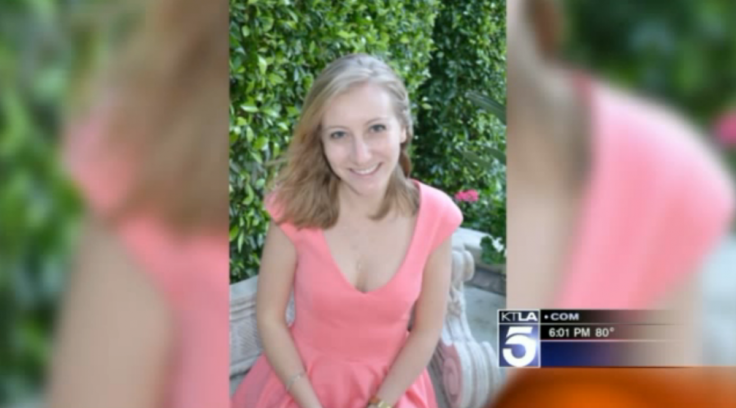 Two 22-year-old men, including a UCLA student, were arrested for the murder of a female UCLA student whose body was found inside her burning Westwood apartment building, the Los Angeles Police Department said on 28 September. The body of 21-year-old Andrea "Andy" Lauren DelVesco was found on 21 September in a unit where many of her sorority members lived.
Authorities revealed that Alberto Medina and Eric Marquez were arrested in connection with the murder. According to KTLA, the two are being held at a Ven Nuys jail. "Investigators examined forensic evidence and witness's statements, which linked 22-year-old Medina and 22-year-old Marquez to the murder of Ms Delvesco," authorities said.
KTLA reported that Medina was arrested on 26 September at his home in Fresno, while Marquez, a UCLA student, was arrested at his Westwood apartment on 27 September. Medina is being held without bail and Marquez's bail has been set at $1m.
DelVesco's identity was identified a day after the fire by her sorority, Pi Beta Phi. Following the announcement of the arrests by LAPD, the coroner's office also confirmed the victim's identity. While no cause of death has been announced, investigators said at the time of the fire that there were no bars on the windows that could have prevented the victim from escaping.
The victim, who was majoring in Spanish and psychology, was charged 8 July with four felony counts of possession of controlled substances for sale, KTLA reported. She was arrested on 4 June by university police and was due for a preliminary hearing four days after her death.
DelVesco pleaded not guilty for possessing Ecstasy, LSD, methamphetamine and Psilocybin, CBS Los Angeles reported. LAPD Officer Mike Lopez did not comment on whether the arrests were connected to DelVesco's criminal charges.