A seriously injured child who survived the horrific Nice terror attack is feared to have been orphaned, as no one has come to visit them. The child, who is being treated by doctors at the Children's Hospital of Nice, has had no visitors, which leaves the possibility the toddler may have been orphaned after a lorry ploughed through revellers.
France has begun three days of national mourning after the Bastille Day attack on the French Riviera. French/Tunisian delivery driver Mohamed Lahouaiej Bouhlel is the man suspected of the atrocity after French police shot him dead at the end of his murderous rampage.
At least 84 people were killed as he "zigzagged" through crowds in just 75 seconds, among them 10 children, with another 202 were injured – 52 of them seriously. Fifty children were said to have been taken to hospital with some of their relatives still not found, including the possibly orphaned youngster.
Islamic State (Isis) claimed responsibility for the truck attack on Saturday, 16 July, as French police arrested five people in connection with the attack. The Isis (Daesh) mouthpiece, the Amaq News Agency, announced via its Telegram account, that "The person who carried out the operation in Nice, France, to run down people was one of the soldiers of Islamic State."
A spokeswoman for the Children's Hospital of Nice has said that 16 bodies remain "still unidentified" with "five children are still in a critical condition, a child is stabilised and three are on life support", according to the Mirror.
Since the incident on the Palais de Anglais, families have been sharing pictures of missing children on social media and one post by a family on Facebook helped to reunite a couple with their eight-month-old baby boy.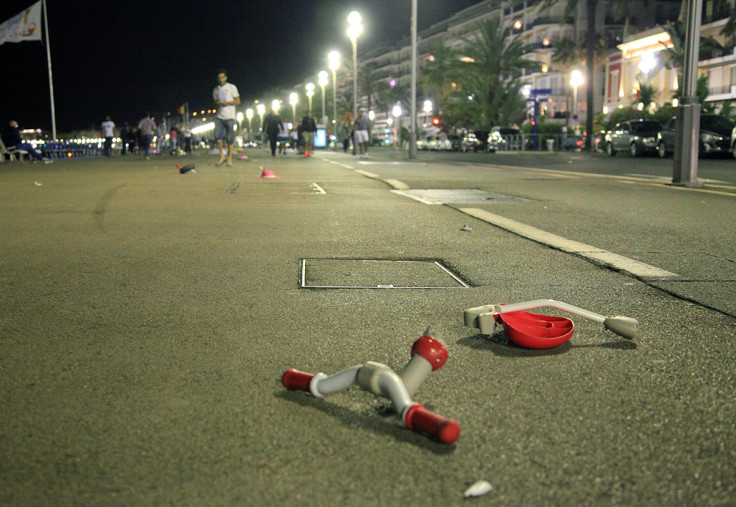 The parents of were separated from their son during the mayhem, but two local residents finding the baby and taking him home. Tiava Banner, the baby's aunt, sent out a fervent appeal on Facebook urging people to contact her with any information about her nephew's whereabouts which the resident saw and got in touch.
The frantic Facebook post soon was soon shared more than 22,000 times until it was updated around an hour later saying the child was found safe and sound, thanking the two women named Catherine Preun and Joy Ruez.