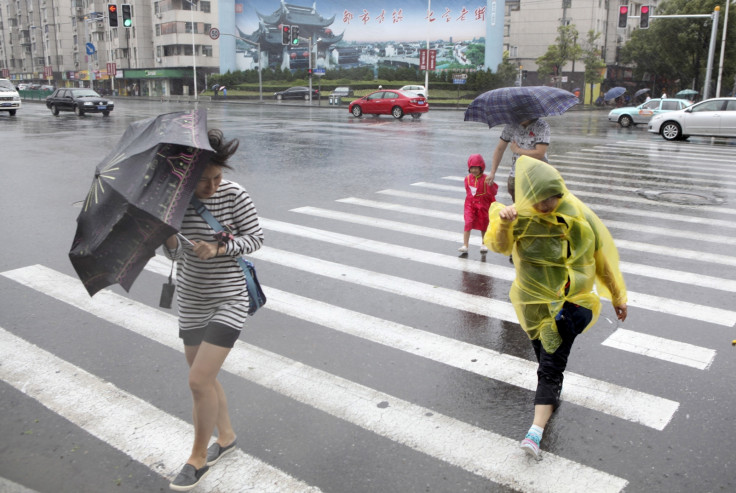 Authorities in China have evacuated 865,000 people after super-typhoon Chan-Hom battered the country's south-eastern coast with 200kmph winds.
The powerful storm hit the Chinese mainland on Saturday 11 July, striking near the port city of Ningbo, Zhejiang province before approaching Shanghai.
China's National Meteorological Centre (NMC) has described the storm as the strongest typhoon to hit land in over 60 years.
In addition to the large-scale evacuations, the authorities called nearly 30,000 fishing boats back to port after waves reached up to 10 metres high off the coast, the official Xinhua news agency reported.
All flights to and from the region were cancelled and bus services and speedboat ferry services stopped.
The Chinese railway service said more than 100 trains between the region's cities had also been suspended.
The local authorities in Shanghai told residents to stay home and cancelled several public events as rain picked up towards midday.
The Shanghai authorities said in a statement: "We recommend everyone does their best to use 'squatting at home' tactics to welcome the typhoon."
The NMC maintained its highest red alert for the storm despite earlier downgrading it from "super" to "strong".
The storm left five people dead in as it passed through the Philippines earlier in the week and injured more than 20 people in Japan on Friday as powerful winds uprooted trees and damaged buildings, Japanese news website NHK reported.
This was the second time Southern China was hit by a typhoon this week. Typhoon Linfa displaced 56,000 people in southern Guangdong province on Thursday 9 July, according to Xinhua news agency.
The US government's Joint Typhoon Warning Center forecast that after hitting China, typhoon Chan-hom would head towards the Korean peninsula, bringing "gale-force" winds to the west coast of South Korea.