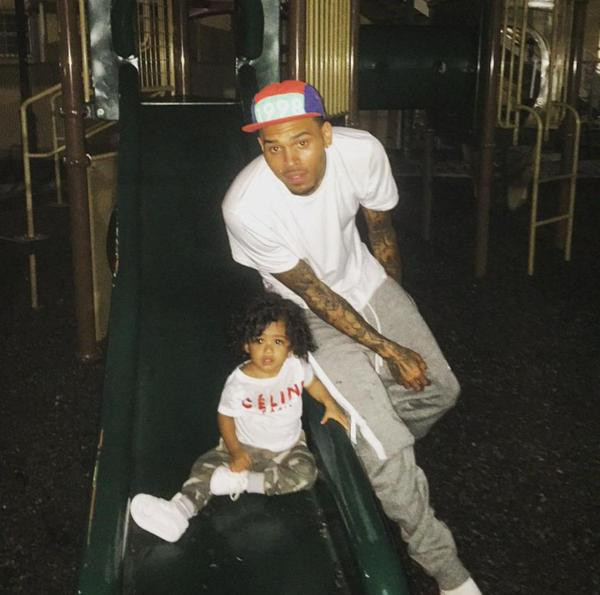 After taking her as his date to the American Music Awards and throwing a massive belated bash for her first birthday, Chris Brown is ready to make his daddy day care a more permanent arrangement.
According to TMZ, the Loyal singer has filed legal documents in Houston to establish paternity after growing frustrated with the one-year-old's mother Nia Guzman's child support and custody demands.
The site reports that Guzman wants $15,000 (£9,615, €13,535) a month in child support which Brown believes is extortionate. He hopes that by getting help from the courts he can set clear custody guidelines once and for all.
The move will give him the right to fight Nia over support and custody. He is said to be tired of being denied access to his daughter.
Although he got to spend his first Father's Day (21 June) with his daughter, the princess-themed celebrations which included a huge bouncy castle, a bowling alley and two custom-designed birthday cakes, did not go down well with her mother.
An insider told Hollywood life: "Nia's furious, no, she's outraged that Chris is spending all this unnecessary money on tricking out Royalty's cars.
"She feels Chris should have given her that money so that she can better take care of Royalty when she's home in Texas! Nia thinks this is a blatant slap in the face to her, seeing as how she's asked him for money to take care of Royalty in the past and he's refused.
In June, Brown opened up fatherhood and revealed that he would love more children.
"I think in the future, possibly, so she isn't an only child. I mean, I have brothers and sisters, so I had a fun time picking on them and hitting on them," he told Real 92.3's Big Boy. "They were beating me up, too, so it would be nice for a brother or sister in the future!"
The New Flame hitmaker also added that his little girl had forced him to grow up and revaluate his life.
"I think right now I am learning how to be a dad, so going through that process it is good for me to grow with her and give her that one-on-one time."