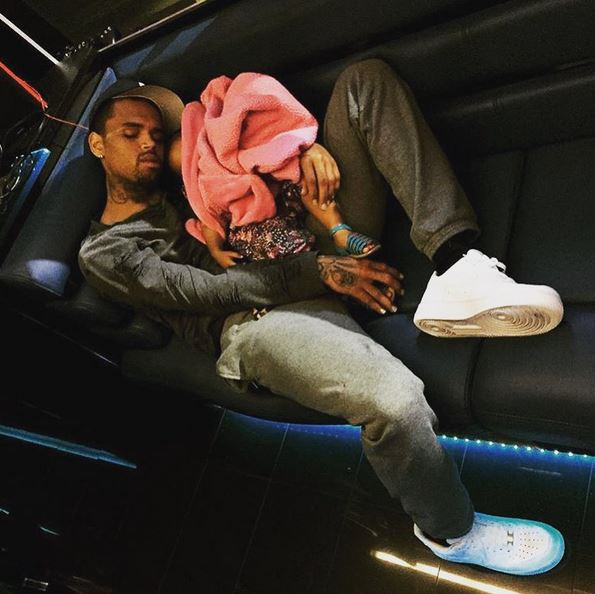 Chris Brown and his daughter's mother may have locked horns on numerous occasions over recent months, but it looks like the pair have buried the hatchet and working at co-parenting their little girl. The Loyal hit maker's former lover has slammed reports that their custody battle has reached a new level of toxicity.
TMZ previously reported that Brown scored a major legal victory in court against his baby's mother Nia Guzman, after a judge denied his baby mama full custody of their two-year-old daughter Royalty. The article also alleged that she was dealt another blow after being ordered to repay $20,000 (£15,00) in legal fees to the r'n'b crooner.
Taking to Instagram to set the record straight on the reports, the former model − who has a 15-year-old daughter from a previous marriage − revealed that the unwarranted attention was putting her family under stress. "Unbeknownst to me I was in court. I cannot fathom why you would deliberately put out a story that directly affects me and my 2 children in such a negative and ill manner fashion," she wrote in an open letter to the celebrity news site.
Rihanna's former boyfriend was awarded joint custody of his little girl in September 2015, with the Zero hitmaker and Guzman agreeing to unsupervised visits and $2,500 in monthly child support payments in addition to the $15,000 he owed in back payments.
Guzman continued her dressing down by saying that the pair haven't been to court in five months and that the media never report the full story. "Why would you guys print something that as not the truth and cause it to have his deranged fans harasses me incessantly? You are putting me and my family under duress and causing us unwarranted harm and bullying. This has to be stopped!"
Brown hasn't ranted about having 'baby mama drama' since May when he slammed Guzman for dressing their toddler in a black tutu and leg warmers for a dance class. The protective dad considered it to be a suggestive pose.