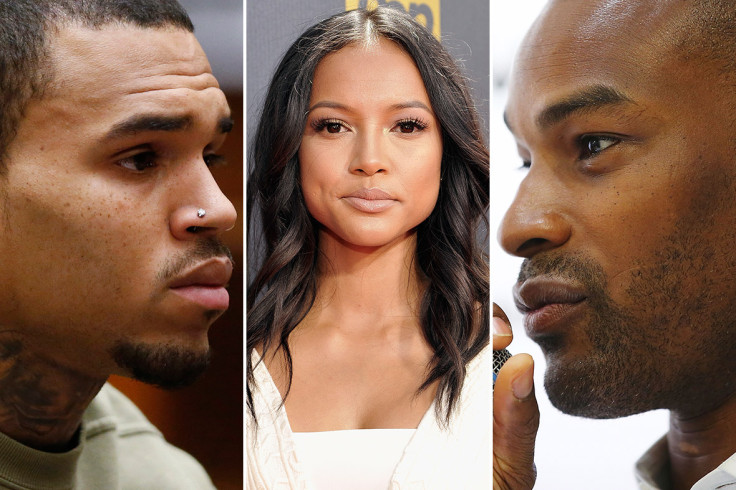 When Chris Brown isn't on daddy duty, he is busy causing a ruckus on social media.
The R&B star got embroiled in a war of words with model Tyson Beckford on Memorial Day after the veteran model shared a selfie with Brown's ex-girlfriend Karrueche Tran.
Like many stars, Beckford and Tran had been celebrating the festivities in Vegas and he posted a selfie of them together after they bumped into each other.
He captioned the snap: "Saturday with @Karrueche #vegas #palms #blasian"
While many say the picture is innocent enough, Brown soon got fired up and jumped on Twitter to threaten the model and his 17-year-old son.
" U wanna keep walking then runways. I need ta legs for that. Keep playing like I ain't wit the bullsh*t.
"I'm done all this internet talking blood. Be in vegas soon. Keep playing ima f*ck ya baby momma and then whoop yo childlike he mine."
Beckford fired back saying, "It's all about fun in Vegas, come thru papa". And then he posted a video of himself shooting a gun range, saying, "Just in case your forgot!"
Brown later deleted the intimidating messages, but not before they went viral online and fans reacted with disgust.
April Roomet, Beckford's son's mother soon weighed in with a warning of her own.
"WHOA! CRAZEEE. He can't possibly be talk'm about men & my son. He must think Tyson get another kid. #HeGotThaWrongOne."
Meanwhile, sources close to Tran claim that she is furious that Brown tried to get territorial. He has been actively trying to win her back ever since she found out that he had fathered a baby girl with another woman and called time on their on and off relationship.
"This is one of those crazy and over-the-top incidents that Karrueche's shaking her head over," a pal revealed to HollywoodLife.com. "For starters, she's not with Chris. Secondly, she thinks he's doing way too much."
The insider added that Tran believes that her former lover's behaviour was childish and she is tired of the drama that he attracts.
"The only drama Karrueche wants in her life are the scripts she has to read for a role. Other than that, she hates all the drama. She's actually trying to establish a successful name for herself and launch a serious career in Hollywood and antics like this don't help. She doesn't want or need any of this nonsense from Chris and she's already told him that after this incident."