Chris Cornell may have taken more than just Ativan before he was found dead at Detroit's MGM Grand hotel in Detroit on 18 May, a new report claims.
According to TMZ, the Soundgarden frontman had fresh and "obvious" track marks on his arms when he was found unresponsive by his bodyguard in his hotel room, hours after playing a gig with the rock group at Fox Theatre.
Clean for years
Cornell had battled with drugs and alcohol addiction for decades after first trying heroin in his early teens. However, he eventually cleaned up after entering a rehabilitation clinic in 2003.
"I actually like rehab a lot. It's like school; it's interesting. I'm learning that I can be teachable at age 38," he told Spin magazine at the time. "I would sometimes drink before we played. It wasn't a big deal. It became a bigger deal when I stopped doing the other things I liked to do."
Toxicology reports, which take four to six weeks, will confirm whether the musician had indeed relapsed and injected drugs.
The father of three's longtime house engineer and tour manager Ted Keedick recently claimed he was exhibiting bizarre behaviour at his final show. "Chris was out of character from note one of the show," he told TMZ. "I've never heard or seen him that way before, at least if we did not cancel a show."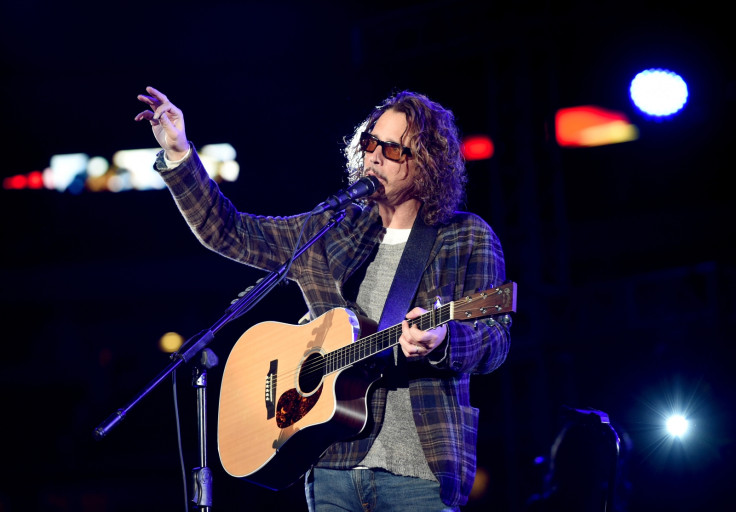 Although a Medical Examiner's Office initial autopsy determined cause of death was suicide by hanging, Cornell's wife Vicky Karayiannis insisted he would never have intentionally taken his life, saying she believed he suffered some adverse side effects after taking more than the recommended dosage of Ativan.
"When we spoke after the show, I noticed he was slurring his words; he was different. When he told me he may have taken an extra Ativan or two, I contacted security and asked that they check on him."
She concluded: "What happened is inexplicable and I am hopeful that further medical reports will provide additional details. I know that he loved our children and he would not hurt them by intentionally taking his own life."
Grunge in mourning
Meanwhile, fans are expected to line the streets of Los Angeles to pay their respects at a public memorial on Friday (26 May) after he is laid to rest at a private memorial service at a Hollywood cemetery. Stars including filmmaker Cecil B. DeMille, actress Jayne Mansfield, rockers Johnny and Dee Dee Ramone are all buried there.
Ahead of the ceremony, Karayiannais paid a heartfelt tribute to "My sweet Christopher" in an open letter.
"We had the time of our lives in the last decade and I'm sorry, my sweet love, that I did not see what happened to you that night," she wrote. "I'm sorry you were alone, and I know that was not you, my sweet Christopher. Your children know that too, so you can rest in peace."
---
The Samaritans provides a free support service for those who need to talk to someone in the UK and Republic of Ireland. Visit Samaritans.org or call 116 123 (UK) or 116 123 (ROI), 24 hours a day, 365 days a year. Visit this website to find a support phone numberin your country.
If you or someone you know is suffering from depression, please contact a free support service at Mind.org.uk or call 0300 123 3393 (charges apply).