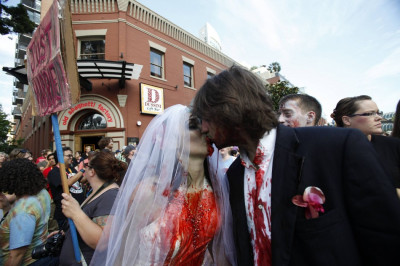 The Zombie walk at Comic-Con 2012 in San-Diego witnessed some amazing action on 13 July. The walk, teasing the upcoming third season of Walking Dead, was a fun-filled event.
The trailer for the third season of the ABC series was released on Friday at Comic-Con. The third season focuses on survivors working together to clear those not dead from an ominous prison glimpsed at the end of the last season.
"The intensity level is incredible. We've got our cast inoculated now. The new people realise just what they're in for and the level that we expect. They've become just as passionate about The Walking Dead as we all are," executive producer Gale Ann Hurd told the UK Press Association.
What caught more attention was the Zombie Survival Machine unveiled by the series creator Robert Kirkman. Celebrating the 100th issue of the Walking Dead comic series, Kirkman along with car fabricator Gary Castillo of Design Craft Fabrication converted a Hyundai Elantra Coupe into a an amazing zombie machine complete with window armour, caged windows, spikes, a cow-catcher and off-road tyres, Jalopnik reported.
"Our custom Elantra Coupe Zombie Survival Machine is the ultimate car for The Walking Dead fans and anyone who wants to survive a zombie invasion. We are excited for fans to come and experience the Elantra Coupe and GT in a unique, post-apocalyptic way," said Steve Shannon, vice-president of marketing for Hyundai Motor America, in a press release.
Those attending Comic-Con will be allowed to get inside and take pictures. They will not be allowed to use the features inside that will prepare them for the gruesome realities of the zombie apocalypse. The booth will also feature a Zombie target practice area and a zombie costume contest. The Huffington Post reported that once you get inside the amazing vehicle, passengers will find a sword, a baseball bat and a first-aid kit if they need any extra help.
The next season of The Walking Dead premieres on 14 October.