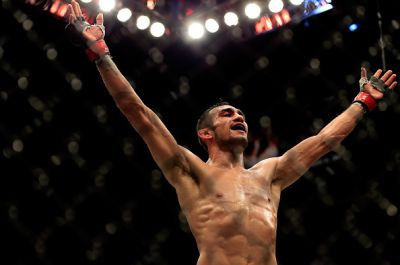 Khabib Nurmagomedov is still lobbying for a fight with fellow UFC lightweight contender Tony Ferguson.
The duo were supposed to face each other for the interim lightweight championship at UFC 209 on 4 March, with the winner expected to face Conor McGregor for the real title.
However, Nurmagomedov suffered from "weight management medical issues" on the night of the weigh-ins, with his manager revealing that he was suffering from liver pain.
With this being the third time a fight between the two had to be called off, Ferguson set his sights on McGregor instead.
"El Cucuy" is yet to receive any response though, with the Irishman recently booking a date with Floyd Mayweather on 26 August.
With Nurmagomedov planning a return in the fall as well, "The Eagle" wants to face Ferguson again, hoping that the fight will finally go through at the fourth attempt.
"Now I am being treated in a medical facility, going through rehabilitation," Khabib said during a recent interview with RT, as quoted on MMAMania. "The exact date of the return is uncertain, but it will be in the fall. I will devote the summer to training, and will hold a fight in the fall."
"It will be a repeat of the battle, in which I could not attend before. No other contender [other than Ferguson] interests me. If you started business, you need to finish it."
The winner of a potential interim title bout between Nurmagomedov and Ferguson will almost likely face McGregor, who according to UFC president Dana White, wants to fight twice in 2017.