Crude oil prices log their fourth straight weekly loss
Brent crude shed 1.2% for the week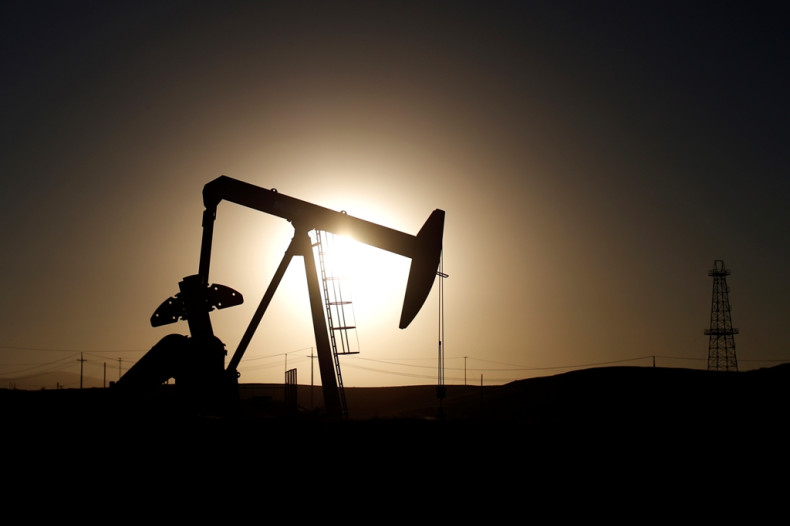 Crude oil futures traded higher on 19 December but finished lower for the week, logging their fourth consecutive weekly loss, amid a supply glut and weak global demand.
Brent February contract finished $2.11, or 3.6%, higher at $61.38 a barrel and US January contract finished $2.42, or 4.4%, higher at $56.52 a barrel on Friday.
But the global benchmark lost 1.2% for the week as a whole, while WTI lost 2.2%.
Tim Evans, an analyst with Citi Futures, told MarketWatch: "To some extent we see [Friday's buying] as simple portfolio rebalancing, with traders judging that there's less downside risk and perhaps somewhat more upside potential from current levels.
"However, we note that fundamental challenges still lie ahead…"
"Long-term investors may be confident that the market will tighten back up and prices turn higher, but from a shorter-term trading perspective, we think it's early to guess that the price lows are in place."
2014 Wrap
Commerzbank Corporates & Markets said in a note: "The commodities markets look likely to end 2014 with their biggest annual decline in six years. The dramatic collapse in energy prices in the second half of the year is chiefly responsible, while the price indices of the other commodities classes are roughly at the same levels as at the beginning of the year. Brent had spent more than three years fluctuating for the most part in a narrow band of between $100 and $120 per barrel before abruptly falling out of this comfort zone in the autumn.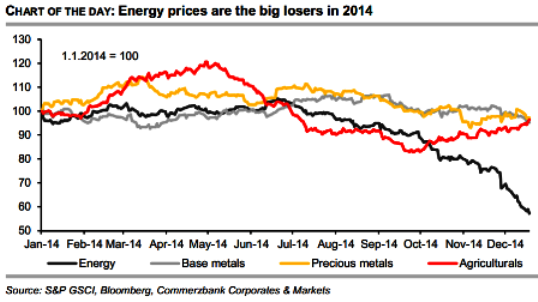 Energy prices in 2014
Commerzbank C&M
"The fact that the oil price had plummeted almost by half since June was only partially due to a false assessment of the fundamental situation: after all, at the beginning of the year the US Energy Information Administration had already predicted that non-Opec supply would increase by 1.9 million barrels per day this year.
"Although growth in demand is somewhat lower than envisaged at the start of the year, it did not collapse in any massive way as it did during the financial crisis of 2008/09. The real cause of the price slump is probably to be found above all in the shift in Opec strategy which, rather than attempting to keep the market balanced as it did in the past, is now aimed at defending its market shares.
"This was made quite clear once again by Saudi Arabian Oil Minister al-Naimi [on 18 December]. According to al-Naimi, Opec cannot cut oil production on its own and can only do so with the support of other major producers, yet these are not willing to take such a step.
"If Opec were to cut output unilaterally, it would merely lose market shares to others without any guarantee that prices would rise."
Price rout
Analysts have warned that weak oil prices could render a number of ambitious oil and gas projects the worldover unprofitable, resulting in industry-wide losses as high as $1tr.
Oil prices have fallen almost 20% since oil cartel Opec, which pump's a third of the world's oil, refused to cut output on 27 November despite a global supply glut.
Prices have dropped some 50% since their peak in June this year, their steepest fall since the 2008 financial crisis.